You probably heard about the newly launched feature and App of Instagram. Instagram launched the new IGTV App & feature which allows the content creators to upload up to 1-hour videos and make money like on Youtube. However, it isn't just limited to Youtubers only, anyone can create his or her channel on Instagram TV. You can access this new feature directly from Instagram App or install a stand-alone app from your Play Store on Andriod or App Store on your iOS devices.
What is Instagram TV?
Of course, this is the first question that comes into your mind. Well, it is an application just like Youtube which allows users to create their own channel and upload their video contents. Most importantly it allows you to become a Social Media Star. For now, you can only get views and followers. Unlike Instagram, it is not limited to 1-minute videos you can upload up to 1-hour video.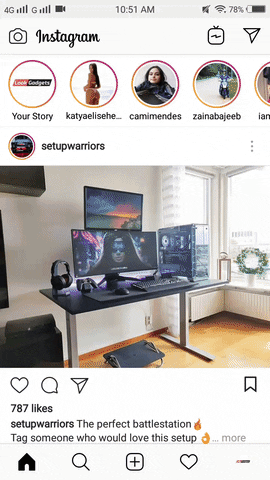 How do I get IGTV?
If you are an Instagram user already and you have IG App already installed in your smartphone then you can see a TV icon next to the paper airplane. You can use right away by clicking on it. However can also have a standalone app for your Instagram TV.
To download standalone App on Android:
Launch your Play Store
Othe n search bar search for "IGTV".
Click on "IGTV".
Click on "Install" button.
Launch the App on your Android.
To download App on iOS or iPhone:
Launch your App Store on your iOS device or iPhone
On the search bar search for "IGTV".
Click on "IGTV".
Click on "Install" button, that's it.
Now Launch the App on your iOS or iPhone.
How to watch Videos on Instagram TV?
Watching videos from content creators on IGTV isn't a big mystery. Just click on the TV icon next to the paper plane icon that is located in the top right corner of your Instagram App, or you can launch TV App if you have already installed it on your Smartphone. After launching the App or clicking on TV icon, you will see all the Video contents that are already uploaded on Instagram TV by your favorite creators.
How to Create Channel on IGTV?
Creating channel is just as simple as watching contents on Instagram TV. After launching the TV on your Instagram, click on the gear icon on the right-middle corner of the screen and tap on create channel button.
How to upload Videos on IGTV?
After creating your channel, click on your display picture right next to the search bar on IGTV. Here you can click on Upload Video. For more check out the gif image below:
How to make Money from Instagram TV?
Meanwhile, there will be no Advertisement or sponsors. However, Instagram is planning to share revenue just like Youtube but in the future. Yet, there is no update on when and how Instagram is starting the revenue share program.