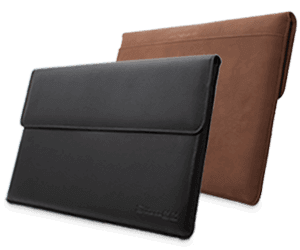 I just recently bought a new Surface Book 2 for myself. If you own a Surface Book or Surface Book 2 like me, then you should get the best quality protective case or cover. I know it is hard to find the best Surface Book Case or Surface Book Cover than the sleeve or bag. But the question is why you need the surface book protective case?
The reason to buy a Surface Book 2 protective case or protective cover for your Surface Book is to protect it from getting damaged.
Choosing a Protective Case or Cover for your Surface Book can be a bit daunting. So, I have listed down the 6 Best Surface Book Covers and Cases.
Note:- The protective case and cover list are for the base model of Surface Book and the new Surface Book 2 (13.5″ Inch) you can not use these with 15″ Inch model.
---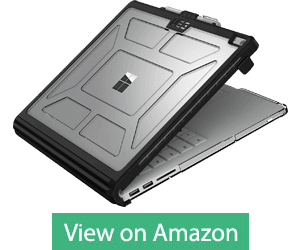 If you are prone to dropping your gadgets, this is the perfect Case for your Microsoft Surface Book.
You must be wondering Why?
It is because of the high-quality material, which makes it a great product for Microsoft Surface Book Case.
This case ensures the safety of your Surface Book even if it falls from a height. Even though it sounds like the case will be extremely heavy, the opposite is true; it is lightweight and highly robust.
Main Features
If you really do not want any harm come to your Surface Book, then this may be your best choice. This case comes with the utmost safety features. The top-quality armor shell and resistant bumpers ensure's the protection under any circumstances.
The dual locks feature allows you to securely close the screen without worrying about anyone gaining access to it. This case also passed the military drop-test standards.
Note:- The UAG Surface Book 2 Case for 13″ Inch model is available in Amazon but the Surface Book 2 Case for 15″ Inch variant is not currently available by UAG (Urban Armor Gear).
Specifications
It comes with a protective tactile spine to keep the screen and keyboard safe and intact.
The cooling vents will help the airflow with no compromises.
You can use it in both clipboard and laptop mode.
It also comes with a pen holder on the side.
---
TOAST Surface Book Cover is one of the sleek and classy design, cover for the Surface Book in the market. The cover is actually a real wood. It gives your Surface Book an elegant look and also ensures that your laptop is safe and protected. The wood of the cover is highly sturdy and robust which gives you premium look and protection. Even though it is a bit on the expensive side, you will love the quality and the value that it provides.
Main Features
It is probably one of the easiest covers that you can put on your laptop. All you have to do is peel away the cover and stick it on your laptop. To ensure that it stays in place, make sure that you clean the surface of the laptop before you put it on.
Note:- The
TOAST Surface Book 2 Cover
for 13″ Inch model is currently available on Amazon but the
Surface Book 2 Cover
for 15″ Inch variant can only be found on
TOASTMade
official site.
Specifications
It comes in a complete package of the bottom and top cover, button covers, and side and hinges wrap.
The cover is removable, but you cannot reuse it.
Designed for a standard base Microsoft Surface Book.
---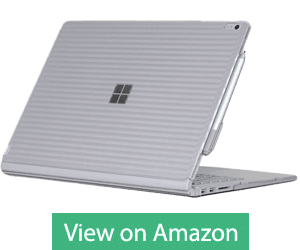 Most of the covers/cases come in limited colors but not this one. You will find a wide variety of colors in the iPearl Case. This one is more like a Surface Book Cover but the company call's it Case. It is available at a reasonable price, it would be easy to get a couple and change the case according to your mood. This one also has a slight texture to it which perks up the entire look of the laptop, ensuring that it does not look bulky or anything.
Main Features
The material used to make the case is simply outstanding. The manufacturer used translucent DOW polycarbonate in this Case, which is shatterproof. So, if you accidentally drop your Surface Book, the case will ensure that it remains intact and suffers only minor, if not any, damages. The design of the case is such that it protects each and every corner of the laptop so that it does not get any scratches or scrapes.
Note:- Just like Skinomi the
iPearl mCover Case
is available on Amazon for both
13″ Inch model
and the
15″ Inch model
of
Surface Book 2
but the price of 15″ Inch
Protective Case
is higher than the base model.
For the further details, please check out our detailed Review on iPearl mCover Hardshell Case
Specifications
The case is available for both 13.5 Inch and 15 Inch models.
Comes in a variety of colors, like light gray, red, black, crystal white, blue, green, and etc.
It's lightweight, highly durable and robust, which makes it a great product for Microsoft Surface.
It is compatible with Surface Pens as well.
It comes with two shells so you can easily snap on or off.
---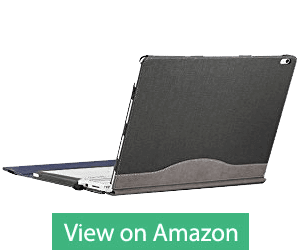 This is one of the most expensive cases that you can buy for a Surface Book, but it is one of the best ones as well. It is highly durable and comes in different designs which make the cover look elegant and classy. It is best to use if you tend to take your laptop to high-profile meetings. Whether you want to use the device as a laptop or convert it into a tablet, you will be able to get the best use out of it.
Main Features
The design is the biggest feature of this case. The built material of this cover is microfiber, which gives a professional look to this case. The microfiber protects the skin and screen of your Surface Book all the time. The case is also waterproof which safeguards the laptop from water spills near it. It also has an elastic strap added to the back so that you can secure the device even better when you close the screen.
Note:- I don't know why iCarryAll named this Surface Book Laptop Case but it's for Surface Book's not Microsoft Surface Laptop's. This Case by iCarryAll is currently only available for 13″ Inch model only and you can use it for Surface Book 2. The Case for 15″ Inch model will be (or maybe) available in near future.
Specifications
It comes in 13.5 inches, making it a perfect fit for the Surface Book.
You can also use it with Surface Book 2.
You will have access to all buttons and ports without the need to take off any part of the case.
It is a detachable design which allows you to take off the screen from the keyboard without having to remove the case.
---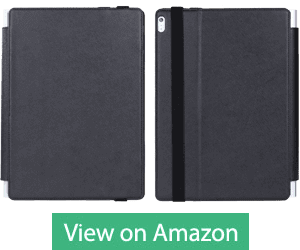 Simple and sleek, this case is designed to keep the user's convenience in mind. It fits like a glove, and you do not have to take it off when detaching the screen from the keyboard. The finest and has top quality material of KuRoKo Case, ensuring the protection of your Surface Book.
Main Features
The best thing is it allows you easy access to all the ports on the sides. You will not need to take it off in order to reach them. You can even access the bottom of the laptop without having to take it off. The typing and viewing angle due to the case is quite comfortable. So, you will not have any problems while using your Surface Book. Also, you can easily separate the screen and keyboard, allowing you to use the two separately without having to remove the case.
Note:- This Surface Book Case by KuRoKo is 2 in 1 Case come with a kickstand and it's only available for 13″ Inch model of Surface Book and can also be used for Surface Book 2. I don't know if the KuRoKo is going to start selling the case for Surface Book 2 15″ Inch model.
Specifications
It is only available in black color and comes in 13.5 inches.
Made up of high-quality PU leather type cover (not genuine leather), and the inside is Lint, which makes it quite durable.
It allows the user to form a firm grip on the laptop, reducing the chances of falling.
It also comes with a comprehensive screen protection.
---
Why Should You Buy a Case or Cover for Surface Book Instead of Sleeves or Bags?
When searching for protection for your laptop, you will come across various options which include covers, cases, sleeves, and bags. Though everyone has their own preferences, it is better to opt for a cover or case rather than sleeves or bags.
You must be wondering why this is so. It is because due to the material they are made of, bags and sleeves have the tendency of damaging the surface area of the laptop.
On other hand, Cases or Covers will let you avoid that factor as they are stuck to your laptop. There is no need to pull out, and you can simply use the computer as is. The cases and covers will protect your Surface Book all time, and the laptop will remain safe if anything happens. There isn't much difference between a Surface Book Cover and Case. Except for the fact that the case allows you to close it using either a flap or an elastic strap.

My Final Conclusion
Above we have listed the 6 best Surface Book Covers and Cases. I choose these products on the basis of customer reviews and the features of the products. Even though all of these products are different from one another, their purpose is the same. These are the best surface book protective case currently available in the market. If we were to choose the best one, it would be the UAG Case by Urban Armor Gear, if safety is your biggest focus, as it protects the laptop from all elements. However, if you are looking for something sleek and stylish, I recommend you the TOAST Surface Book Cover. No matter which Case or Cover you buy, you will not regret your decision. I believe your search for the best Surface Book protective case and cover ends here.