The Apple AirTag accessories like the case, holder, keychain and skin is a whole new industry. In typical Apple fashion, the company (Apple) has created yet again another potentially billion-dollar industry. However, to truly appreciate Apple's approach to the AirTag it is important to understand what it's all about. If anything it will help us understand the value of accessories like the AirTag case/rugged armor type accessories.
What is Apple AirTag?
The AirTag, is a new class of product, which allows iPhone users to track and find stuff attached to it via Find My app. Most people find themselves searching for their keys amid the weekday rush hour. Some people may even have a knack for losing stuff. Regardless of who you are the AirTag, helps keep track of your keys, wallet, backpack or just about anything else you adhere it to. However, there is a catch!
It would help if you had an AirTag keychain or key ring, case, holder or skin, that will attach to the AirTag disc short of maybe drilling a hole in the device. Sure, you can just adhere it to whatever you want to track, but glue isn't as secure as a keychain. While some people have taken the route of drilling a hole through their AirTags, we would caution against it since most accessories we'll soon examine, aren't all that expensive. Plus, you aren't risking damage to the tracker.
We've had a chance to give quite a few AirTag keychains, covers, cases, and straps a shot to find what works best for us. Since many people have asked us for our picks of the best accessories for their AirTag(s), we've decided to list ones our team, and we prefer using. Now keep in mind that the prices associated with these AirTag accessories may exceed the price of the actual tracker. Still, pricing keeps changing, so make sure to confirm the official latest price before buying any of the accessories we recommend. We also had covered a topic on the best iPhone 13 screen protectors, if you are looking for a new display protector for your iPhone.
So, without further ado, let's get to it!
Best AirTag Keychains and Accessories
Apple Leather Key Ring
The Best Airtag Keychain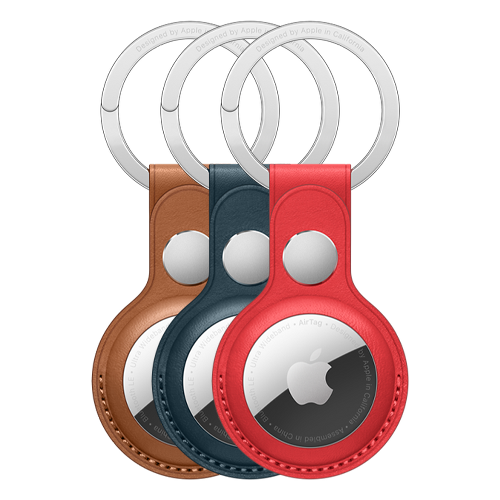 The Apple AirTag Leather Key Ring is a product that you can trust will not hinder the functioning of the AirTag. We used the accessory Key Ring for a while with our car keys, and honestly, it feels good in the hands. While it isn't as premium feeling as some of the other third-party options, it's still worth the price. What's more, hooking up your keys to the keyring is as it would be with any other keyring.
Our only gripe with this official Apple product is you can't buy it as part of a bundle with, let's say, 4 or 5 Apple AirTag(s). In our opinion, this is probably going to be the most commonly used accessory with the device.
Apple AirTag Loop
Best Airtag Holder for Backpack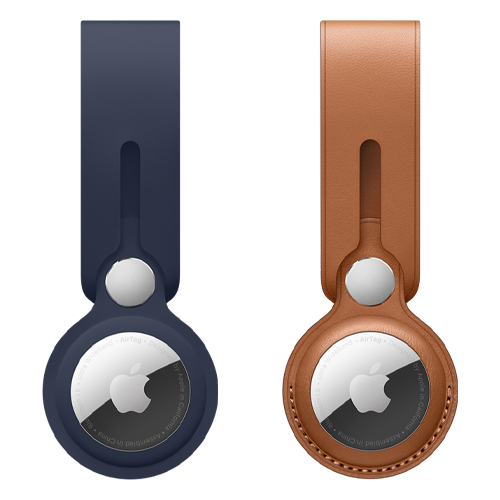 The AirTag Loop is another Apple product, which can easily be strapped onto your gym bag or luggage. Made from polyurethane, it's both water and scratch-resistant. However, it isn't perhaps as rugged as the leather version in beige.
The beige Apple AirTag Loop, also made and sold by Apple, is the perfect Father's Day gift. You can couple it with an AirTag so that he does not lose track of his most prized possessions. Our time with the leather Airloop was brief, but from the looks of it, you should be able to get years of use out of it. Just strap it onto the AirTag and pretty much forget about it…quite literally.
Belkin Secure Holder with Key Ring and Strap
Most Affordable Apple Airtag Holder and Keychain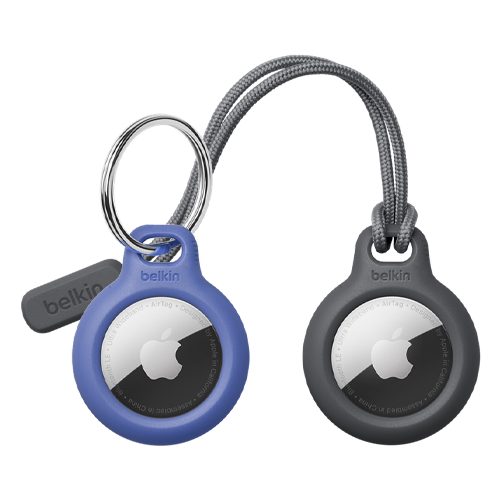 The Belkin Secure Holder designed for the AirTag comes in two versions, i.e., Strap and keyring. While we admit that both the Strap and keyring are pretty much a no-frills affair, they cost far less than the Apple AirTag accessories i.e. the branded straps and keyrings. Not to mention that because of the pretty reasonable quality of the material used, they probably offer better value for money.
The Strap and Apple AirTag leather key ring are both made from the same soft synthetic leather-like material, which will not easily tear. That said, most people should be able to get a few years' worth of use out of it. If you are looking for a useful mount for AirTags, this should get the job done.
NOMAD AirTag Leather Loop and Keychain
Best Genuine Leather Keychain for Airtag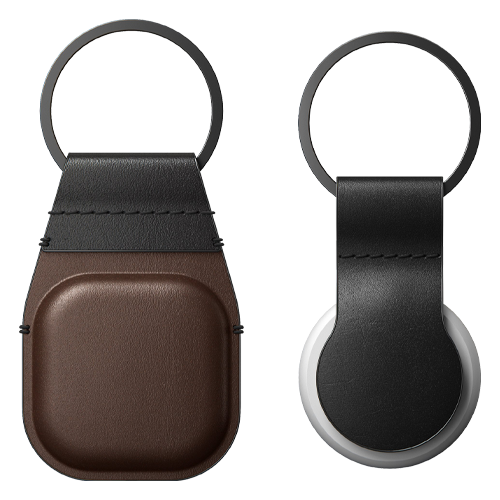 Personally, we think that NOMAD has done an excellent job with their leather Loop and leather Keychain AirTag accessory. In fact, we like it more for the price compared to Apple's keychain and loop, which leaves the AirTag exposed. An exposed AirTag isn't necessarily a bad thing, but if you can have it entirely enclosed in a waterproof shell, that's probably a better alternative.
The material used is designed to weather over a period of maybe several months, during which it will become darker. Available in black and saddle brown, we think it offers excellent value for money.
NOMAD's Leather Loop can also double as a key chain that is a few dollars cheaper, and it's possible to find it on sale. While we aren't big fans of loops in general, but if you are, this one again does a better job than Apple's offering for the price.
Moment AirTag Mounts
The best rugged Airtag Holder for Wallets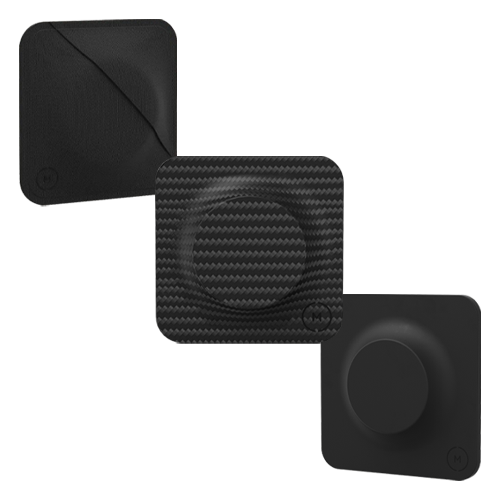 Moment's Apple AirTag accessories are some of the best out there. The Brand has three handy accessories for the Apple AirTag. The first is their rugged Hard Shell Mount, made from aramid fiber, which's backed with a strong adhesive, allowing you to stick the AirTag to just about any surface. It in a way, it equips the AirTag for rugged use like under a car, on a bike, or onboard a drone. Furthermore, the lightweight casing ensures that the AirTag remains both secure and hidden. Inside it is some foam-like shock-absorbing material that prevents rattling.
The other exciting accessory is the Curved Surface Mount that's made primarily from Silicone. The use of Silicone makes it easy for the AirTag to adhere to any hard surface that isn't necessarily flat. Whether it is a bike seat, snowboard, or kayak, the Curved Surface Mount adapts to all surfaces and is additionally waterproof.
Moment's Stretch Fabric Mount, made from bonded power mesh, can adhere to just about any fabric surface. According to the company, it uses a proprietary adhesive that offers a strong bond with the surface. Whether you have a purse or backpack, just press it on to the outside or inside to keep track of it. Finally, a doubled hemmed enclosure means no rattling or noise, ensuring it rides silently with your expensive equipment.
AirTag Skins by dbrand and SlickWraps
The best customizable Airtag Skins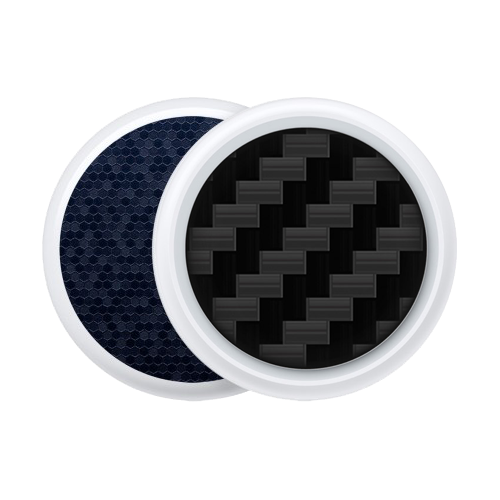 Hours after Apple revealed their AirTag dbrand, announced their series of skins for the device. And a couple of days later, the SlickWraps also released skins for AirTags. Both brands sell premium quality 3M vinyl skins to help customize the look and feel of your AirTag. It works a lot like their skins for just about every mobile device out there, available in various textures and colors. In addition to customizing the look of the AirTag, the skins also ensure that your tiny new device continues to look like new under the skin. A large selection of skins is available directly via dbrand's and SlickWraps official website.
dbrand AirTag Grip Case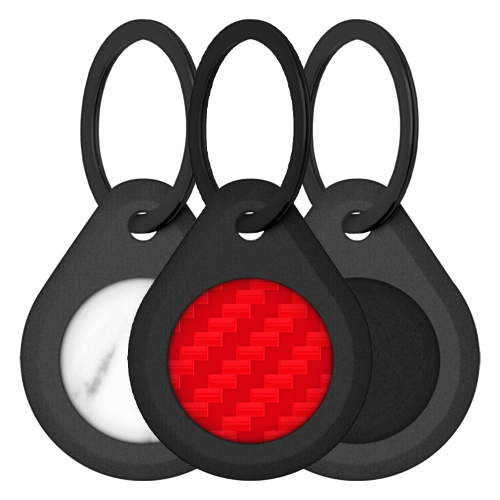 The Grip Case is a keychain and lanyard attachment designed especially for Apple's AirTags. The package includes the AirTag holder, a keyring and a lanyard. Of all the Apple AirTag accessories, these offer some of the best value. In addition, buyers are also treated to skins for both the back and front of the accessory. We like the fact that just about every aspect of the Grip Case is customizable, and it does not cost as much as Apple's own accessory.
Spigen Rugged Armor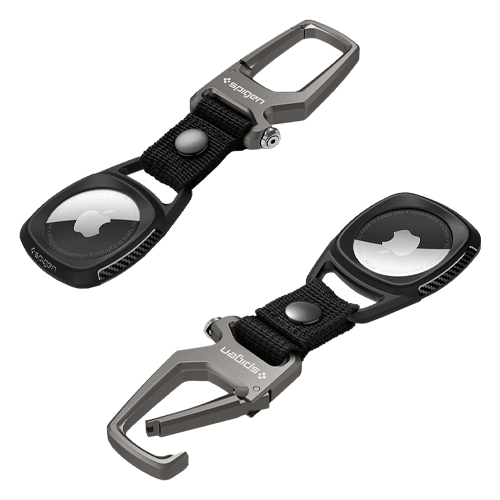 The Rugged Armor, according to Spigen, has been inspired by car design. The latest iteration for the AirTags bears the same timeless design, carved over carbon fiber, matt black finish material. The Rugged Armor actually feels quite rugged in hand, which should ensure that your AirTag lasts a lifetime. The only drawback is that it has a thick and bulky design which may not tickle the fancy of someone who wants something thin and light.
Cyrill Basic Leather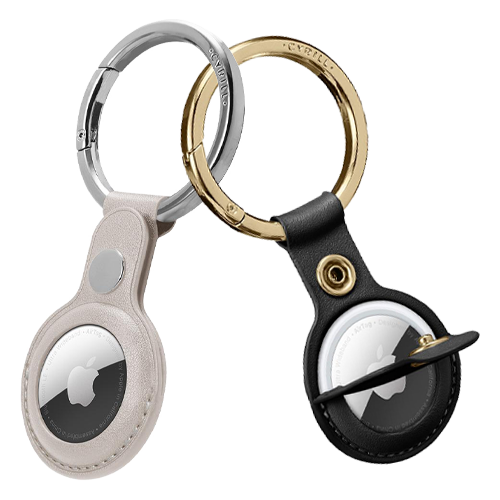 The Basic Leather is available in both Black and Stone. Everything from the vegan leather strap to the case and the minimalistic design is standard across both variations. However, while it does not appear like much on paper, the Basic Leather looks and feels premium. Plus, it's easy to hook on to wallets, bags, keys, and just about anything else you may want to keep track of in your possession.
Spigen Case Valentinus
Affordable Keychain accessory for Airtag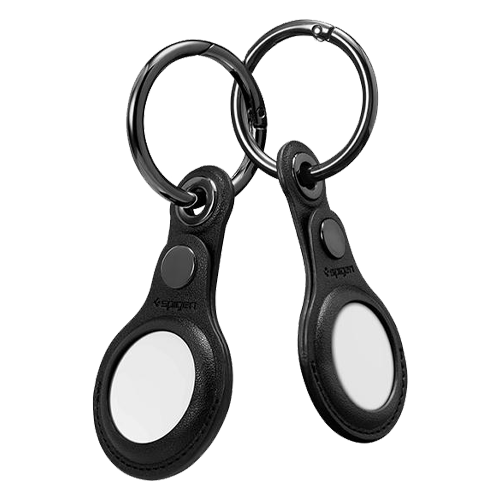 Case Valentinus, is one of the classiest looking keychains we've seen in a while. As a bonus, it is perfectly designed to house your AirTag with a set of keys. The leather look and a fully functioning carabiner ensure that you can hook it up just about anywhere. The precision sewn cover gives it that premium look which we think will have many people pulling out their credit cards like we did.
While it isn't ruggedly designed as some of what is available from competing brands, but it still looks great and feels good in the hands.
Caseology Vault
The best Airtag Holder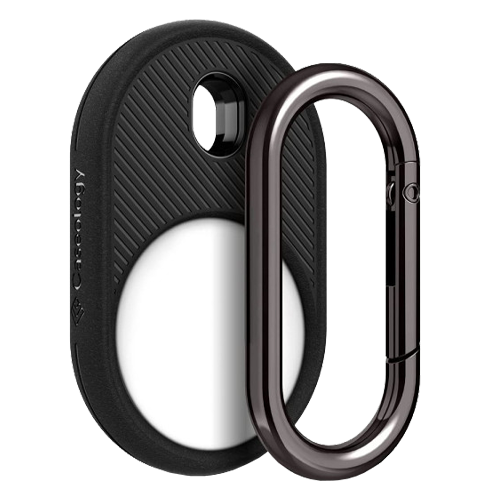 The sandstone textured Caseology Vault is durable and can be clipped on to everything from a backpack to your drone. The compact design means that it can easily fit in a bag or purse of just about any size. Plus, the durable case ensures that your AirTag remains safe in all types of conditions and temperatures.
It is ruggedly designed, which means that it should last a few years. In our opinion, it offers a lot of value for its price.
MoKo AirTags Keychain and Loop Case
Cheapest Apple accessories alternative for Airtag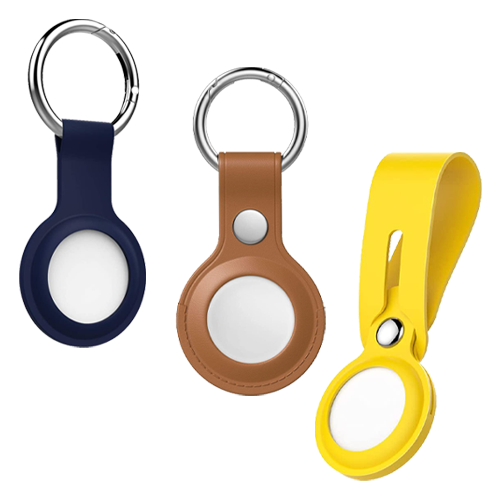 The MoKo AirTags Keychain is made from protective, excellent quality genuine leather, and there is a version available in Silicone. While the leather feels more premium, it is our opinion that the silicone version is probably more durable. However, both materials are sweatproof and pretty much scratch-resistant unless you take a nail to it. The hollow, circular cases provide the AirTag adequate protection without the added bulk of some other keychains we've reviewed. The leather and silicone version of the keychains are available in a multitude of colors.
The loop case is made primarily from Silicone. The loops, like their keychain counterparts, are sweat and scratch-resistant. Plus, they, too, are available in a multitude of color options. However, they tend to serve a slightly different purpose.
Hermès Key Ring and Bag Charm
Most Expensive Airtag Keychain and Bag Charm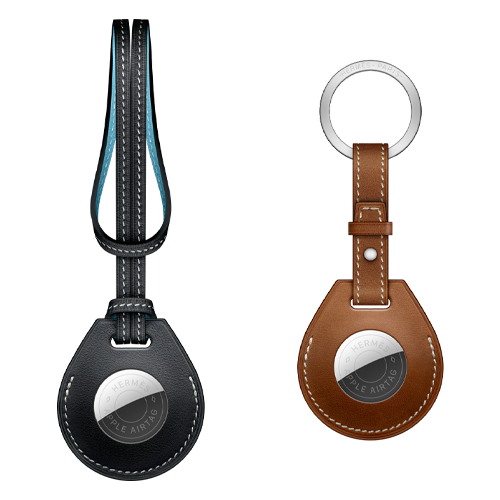 Hermès is a brand that's associated with the ultra-premium category of accessories, and their partnership with Apple is pretty much a match made in heaven. That's why AirTag Hermès accessories command a premium price tag. Speaking of which, the Key Ring is meticulously crafted from leather. The company does not say if it's handcrafted, but it is available in both Swift leather and what we think is a better-looking version made from Barénia leather. The contrasting stitching helps bring out the darker colors.
The Bag Charm is another leather Hermès accessory, handcrafted by some of the most expert professionals in France. It isn't just an accessory for your AirTag, but a fashion statement. The charm is easy to hang on just about any Handbag. Ladies will be happy to learn that the Bag Charm goes well with just about any size or type of handbag.
Hermès Luggage and Travel Tag
The best Airtag Strap for Suitcases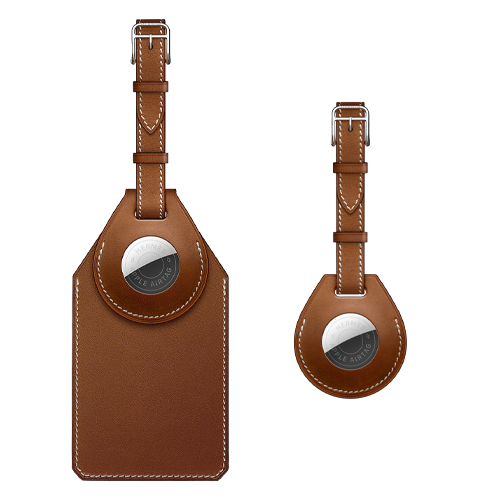 The Hermes luggage tag is made from premium quality Fawn Barenia Calfskin. It is one of the best Apple AirTags accessories. The design encases your AirTag in a protective bubble. Like all other Hermes products, the luggage tag feels good in the hands, and most of all, we think it's pretty durable.
The Travel Tag is another Hermes product that looks in many ways identical to their Luggage tag. In fact, it uses the same Fawn Barenia Calfskin leather. Only difference we could spot is in the way it's shaped. In our opinion, if you're looking for an ultra-premium luggage tag to house your AirTag, this should do it.