Are you searching for the best WiFi router for Spectrum 100Mbps or 200Mbps Internet Plans? It's worth noting that Charter Spectrum Internet Service doesn't provide free Wi-Fi on their modems. Instead, they charge a monthly fee of $5, which could end up being more expensive than purchasing the device outright.
Personally, I feel like renting a device from a service provider is a bad investment. It's better to buy a wireless router for Spectrum Internet and save money. However, the problem is not all modems & wireless routers are compatible with Spectrum.
To optimize your internet plan fully, having the right Wi-Fi router is crucial for achieving maximum speed. This article will provide the list of the best Spectrum wireless routers to use for 100Mbps or 200Mbps Internet plans.
If you are looking for 802.11ax routers, we recommend you read our guide for the best Wi-Fi 6 routers and the best Wi-Fi 6 mesh router systems. For Verizon consumers, check out our Fios-compatible router list.
Best Wi-FI (Wireless) Routers for Spectrum Internet
Here is a short list of the compatible Wi-Fi routers that work best with Spectrum 100Mbps & 200Mbps internet plans.
Arris SBG6700-AC
Fastest and the Best Modem Router Combo for Spectrum
Although the cheaper SBG6400 is suitable for 100Mbps connection but it comes with older Wireless-N technology. That's why we recommend Dual-Band Arris SBG6700-AC Wi-Fi combo modem, which offers better and reliable wireless internet speed.
For a decent internet speed and connectivity, the SBG6700-AC comes with an affordable price tag. Moreover, it supports 802.11ac (aka Wi-Fi 5), which is the most common wireless standard for many devices. It also supports the backward compatibility for b/g/n standard as well. With 2.4GHz and 5GHz dual-band connection, it offers a total of 1600Mbps speed on Wi-Fi devices.
Other than this, it comes with two Gigabit Ethernet ports and an embedded firewall with parental control. It also features the DOCSIS 3.0 interface and supports backward compatibility with 2.0, 1.1, and 1.0.
The only con at this point is it doesn't feature fancy and advanced features to configure this modem with a mobile app. The only way to set up this modem is the old fashion way by visiting 192.168.0.1 via your browser.
NETGEAR WiFi Router (R6080)
Best Router for Charter Modem with 100Mbps Internet Cable Connection
If you have Charter Spectrum modem with Wi-Fi lock on it, then you will need to buy a wireless router. The NetGear R6080 is one of the most affordable Wi-Fi routers for 100Mbps Spectrum internet.
It features the fastest dual-band performance for up to 15 devices with broader coverage of 1000 sq ft. You can enjoy a combined speed of 1000Mbps on 2.4GHz and 5GHz channels.
R6080 is the best choice for online streaming, gaming, smart home devices, and un-interrupted internet surfing. You can also get four 10/100Mbps Ethernet ports on the back of the router for the fastest wired connection.
The safety features include Firewall, WPA2 Encryption, Guest Wi-Fi access, VPN, DoS Protection, and Smart Parental Control. On top of it, the R6080 is easy to set up via the Nighthawk App, which lets you manage your internet-connected devices and filter websites.
TP-Link Archer A7 AC1750
Affordable Wi-Fi Router for Gaming and 4K Streaming on Spectrum 100Mbps Plan
Some of you might not feel like you need this router. But for those who are in search of a 4K streaming router for 100Mbps Spectrum internet, the Archer A7 is an ideal option.
It offers 1.75Gbps wireless throughput and stable Wi-Fi connection for more than 50+ devices, with exceptional coverage of 2500 Sq. Ft. area this router is best for a large home and compatible with TP-Link OneMesh devices and Amazon Alexa for Smart Home.
Other features include three external antennas, 4 Gigabit LAN ports, and 1 USB 2.0 port for Media Sharing. Just like NETGEAR, it also offers Parental Control, VPN support, Firewall, Easy Setup, and Remote Management via the TP-Link tether app.
Linksys EA6350
Overall Best Wireless Router for Charter Spectrum 100Mbps
Here is another cheapest dual-band Wi-Fi router for Charter Spectrum 100Mbps internet plan. It is a decent wireless router for 4K Streaming and Online Gaming with coverage of 1000 square feet area.
The Linksys EA6350 delivers the fastest speed for up to 10 wireless devices and provides 4 Gigabit ports for wired connection.
It also supports Firewall, VPN, Guest access, and Parental Control. The setup is pretty easy, and straight forward, you can use either Linksys mobile App or via web access.
Other advanced features include Media Prioritization, which allows you to control and give network priority for selected devices. There is also a single USB 3.0 port available, which will enable you to connect a flash drive or external SSD for faster media sharing on LAN or Internet.
Buying Guide for Spectrum Compatible Routers
Every router has its specs, wireless performance, and features like dual-band and Wi-Fi standards. Deciding on the Wi-Fi router depends on your budget and the features you need.
We recommend you to keep the following considerations in mind before making your purchase.
Wi-Fi Standards
The 802.11ax is the newest Wi-Fi standard, which offers three times more speed performance and coverage than the 802.11ac. It is the fastest wireless standard that you can get. However, you might not need one right now because probably most of your household devices are on Wi-Fi 5 (aka 802.11ac).
Even though performance-wise, the Wi-Fi 6 is the best router for Spectrum 100Mbps, but it needs 802.11ax client devices for a performance boost. However, to future proof your home network, it might be the best idea to get an AX router.
Otherwise, the Wi-Fi 5 will give you lag-free speed to enjoy 100Mbps Spectrum internet on your existing devices.
Single, Dual, and Tri-Band
When it comes to wireless bands, people tend to ignore the importance and often complain about the Wi-Fi speed and coverage performance after buying a router. We have already published an in-depth comparison guide on our website. Since we previously covered this topic in detail with compassion, we will keep it as simple as possible.
When you get a single-band router, you will have only one 2.4GHz channel, which is suitable for more extended coverage but poor performance for more than four devices. However, the dual-band offers two channels of 2.4Ghz and 5GHz wireless-band that allows you to connect and manage more devices.
Lastly, with the tri-band, you'll get an extra 5Ghz antenna, which offers additional features.
You should buy a tri-band router or a mesh Wi-Fi system if you live in a large home with multiple 5GHz Wi-Fi devices. Otherwise, the dual-band router is suitable for 100Mbps internet.
Speed and Performance
The real-life performance of the routers depends on the antenna and interference between the router and the connected device. It also depends on the number of neighbors on the same signal. A single-band router is good for 4 to 6 concurrent connected devices. However, if you have more than 6 or 8 clients, you should buy a dual-band router to connect more devices and manage network priority.
Why should you buy a Wi-Fi router instead of renting from Spectrum?
We did the math, and it turns out you can save a lot of money by purchasing your own router from Amazon.
Spectrum charges a fee of $5 per month for using the Wi-Fi on their free modem, and there is a $9.99 setup fee as well. This will cost you a total of $69.99 for the first year and $60/year onwards. But that's not it; the overall wireless performance of Spectrum Wi-Fi combo modem is poor. If you have multiple internet devices and you live in a large apartment or house, you will need a long-range wireless router for better coverage.
For the first-year fee of Spectrum Wi-Fi, you can get 2 Packs of Tenda Whole Home Mesh Wi-Fi System. And the TP-Link Archer A5 will cost you around $40, which is a one-time deal.
So, it would be best if you buy a router unless you have extra money to burn on a poorly performing Wi-Fi network.
How to connect Wireless Router to Spectrum Modem?
As you already know, Charter Spectrum (aka Time Warner Cable) doesn't offer any technical support when you use any of your own personal networking equipment. However, you don't need to be a scientist to set up a router with a modem. Here is the quick step-by-step guide to connect and Wi-Fi router with Spectrum modem.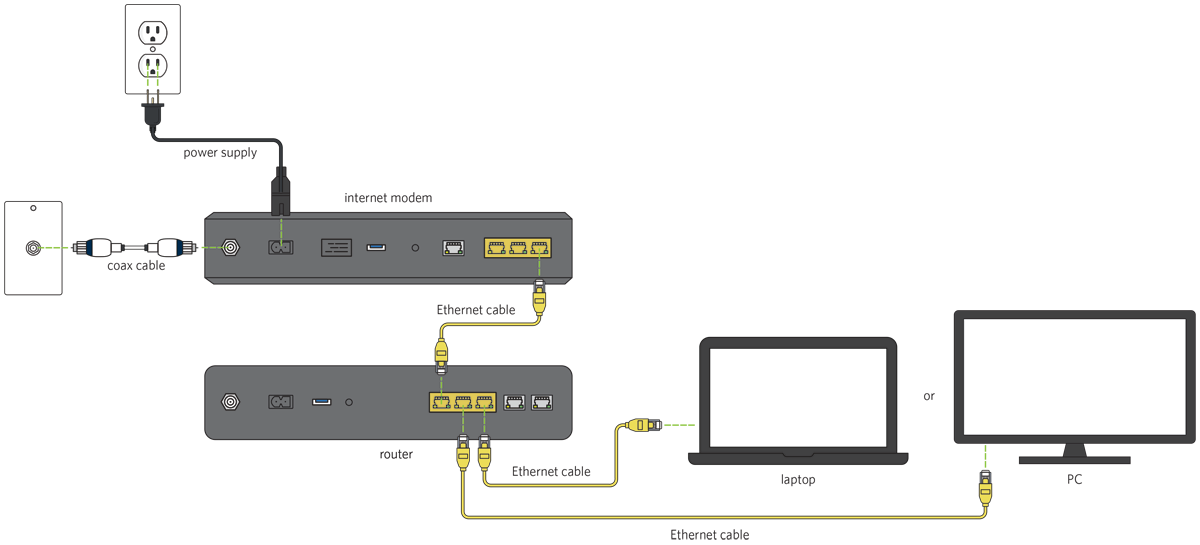 Requirements:
Before you begin, make sure you have the following tools and equipment:
Wireless Router
Use any recommended router for Spectrum that provides concurrent dual-band Wireless-AX with Gigabit WAN port and backward support for 802.11ac/n/b/g. Consider upgrading your Laptop Wi-Fi Card if it doesn't already support latest AX standard.
Spectrum Router Combo Modem
You must have a DOCSIS 3.0 modem, and if you don't, the Arris SBG6700-AC and Motorola MB7420 or MB7220 are fully compatible with Spectrum. Either way your Spectrum do offer a free modem with your cable internet plan.
Ethernet Cable
For high-speed internet, get a Cat 6e or Cat 7 Ethernet cable, which will be used to connect your WiFi router with Spectrum modem.
Steps: How to set up a Wi-Fi Router with Spectrum Modem
Get the Ethernet cable and plug one end to the LAN port of your modem.
Now Plug the other end of your Ethernet cable into WAN or WLAN port of your router.
Switch on your router and give it two to three minutes until the lights turn green.
That's it; the setup is now done.
Now you need to configure your Wi-Fi router using the instructions guide and manuals come in the box.
What is the IP Address for Spectrum Modem?
The default IP for any modem is 192.168.0.1. You might need this IP address to configure your Wi-Fi router with Spectrum Modem. Make sure to read the instruction manual before proceeding with any changes.

Keep in mind the LAN IP of your router and modem will be different. You can find the default IP address of your Spectrum router and modem on the back of your device.