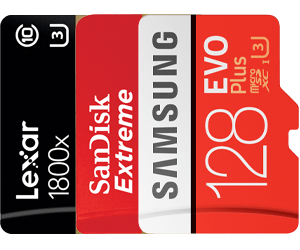 Imagine you are on a trip, enjoying your moments, taking pictures, and recording 4K videos on your action camera. And suddenly you can't shoot anymore because your memory card is full that could be irritating. Therefore to avoid such situation, you should always take extra high-speed microSD Cards with you. If you are a big shooting enthusiast, then you should get the best microSD Card whether you are using GoPro HERO9, DJI OSMO, or any other action camera.
However, 4K action cameras don't go well with any local brand of MicroSD Cards. To able to always be active on your action camera, you need to have maximum storage. Similarly, you need to get a high-performance microSD Card if you want to use your action camera to its full potential.
There are many types of SD cards available in the market. However, DJI OSMO and GoPro HERO9 only support microSD cards. The reason is only the difference in the dimension between the memory cards. The modern devices come in compact sizes, and microSD cards are smaller in size likewise. Therefore they are mostly used for photos and video storage.
Here we have listed top-rated microSD cards that are compatible with GoPro and DJI. Also, a list of the things you should consider before buying any SD card. First, we will let's talk about how to pick the correct SD card.
How to Choose a MicroSD Card for GoPro Hero and Osmo Action
It is imperative to get the right MicroSD Card to achieve the best results with your action camera. Keep in mind that GoPro HERO 9 and DJI OSMO do not work well on any micro SD card on the market. The speed of a memory card is essential when it comes to 4K cameras. It also improves the video performance, as the device does have to save the data when recording video. This is what you would want an action camera to do when you shoot high-resolution videos.
There is a high risk of error or data loss if you use a low-grade micro SD card for GoPro or DJI OSMO. If your action camera freezes up or crashes, it's mostly because the SD card doesn't match the potential of the device.
Best microSD Cards for DJI OSMO Action & GoPro Hero9
To let you choose the best memory card, we brought you the five best microSD cards the works like a pro with DJI OSMO and HERO9.
Lexar Professional 1800x microSDXC
The fastest microSD Card for 4K Video Recording
Lexar Professional 1800x microSDXC is the fastest and high-performance micro SD card that works best with DJI OSMO and GoPro. With 4K recording standards for all recording devices, we are not that far from the 8K recording standard. Lexar has come up with the highest speed capacity of UHS-ll micro SDXC cards. It is rated for a chronological reading speed of up to 270 MB/s and 100 MB/s for writing speeds. Thus it is also suitable for devices like Surface Pro 7 and Surface Pro X.
If your device needs support for a lower GB micro SD card then you should go with 64 GB beside, they have a faster writing speed than the 170 MB/s and 100 MB/s, of up to 250MB/s. Lexar Pro 1800x allows you to capture the fastest speed 4K videos on your DJI OSMO or HERO9. Besides, the fastest speed of the Lexar microSD Card also allows you to transfer media files between devices quickly.
Storage: 64 GB and 128 GB
Type: microSDXC
Speed Class: UHS-ll
Writing speed: 100 MB/s
Reading speed: 170 MB/s
4K Recording: Yes
Samsung EVO Plus MicroSDXC
Most Recommended Memory Card for DJI OSMO
The Samsung EVO Plus microSD Card has a speed class of UHS 1, Class 10, and UHS-Class 3. The 256 GB of Evo Plus allows you to capture life with extraordinary quality and performance. It offers a reading speed of up to 100MB/s and a writing speed of up to 90MB/s with the compatibility of Class 10 and U3. It also comes with a micro SD card adapter.
You can shoot well-off as well as in-depth 4K UHS videos on your action camera with Samsung EVO Plus Micro SD Card, and be sure that every memory is safe. It allows you to save over 75,200 photos, and around 39 hours of Full-HD and 12 hours of 4K Videos, and a total of 39,000 songs. This makes it the SD card when you want big storage for the fantastic pictures and recordings you'll make with your OSMO Action camera.
Storage: 32 GB to 512 GB
Type: microSDXC
Speed Class: UHS-I, UHS-3 and Class 10
Writing speed: 90 MB/s
Reading speed: 100 MB/s
4K Recording: Yes
SanDisk Ultra Plus
Best Affordable SD Card for Action Camera
The SanDisk Ultra Plus SD memory card comes in 16 GB, and up to 400 GB. It works with twice the speed of standard SDXC cards, having reading speeds of up to 98MB/s. It is the best choice for recording and taking photos in full HD mode, all while having a budget-driven attitude. The SanDisk Ultra Plus works best with SDHC/SDXC and UHS-I SDHC-I/SDXC-I devices. The SanDisk Ultra Plus microSD Card is for photography enthusiasts that use point-and-shoot compact digital cameras and camcorders. The advertised speed would make it easier for users to transfer files and take pictures.
The SanDisk Ultra Plus is x-ray proof, water-proof, extreme temperature resistant, shock-proof, and with all this comes with a low price, so that you can take lots of photos or videos on the go, without needing the advantages of the Pro cards.
Storage: 16 GB to 400 GB
Type: microSDXC
Speed Class: UHS-I and Class 10
Writing speed: 90 MB/s
Reading speed: 100 MB/s
4K Recording: Yes
Kingston Canvas Select SDHC/SDXC microSD Card
The Cheapest SD Card for GoPro Hero 9
Kingston Canvas Select SDCS and SDXC micro SD cards are best for point-and-shoot cameras. The card is available in Class 10 UHS-I with data reading speed of 80MB/s and a writing speed of 10MBs. The card provides a storage capacity from 16 GB to up to 256 GB, for those who like to use HD recording or takes many high-resolution photos, this SD card is perfect. This card is most certainly suitable for any GoPro Hero and DJI OSMO as well. The card also has some other features; such as temperature proof, X-ray proof, vibration and shockproof, and waterproof.
This micro SD card is the runner-up for the best budget because it provides all the same features of SanDisk Ultra Plus except the writing speed and comes with a slightly cheaper price than SanDisk Ultra Plus.
Storage: 16 GB to 156 GB
Type: microSDXC/SDHC
Speed Class: UHS-I and Class 10
Writing speed: 10 MB/s
Reading speed: 80 MB/s
4K Recording: No
SanDisk Extreme microSDXC
Recommended microSD Card for GoPro Hero 9
The SanDisk Extreme 128GB micro SDXC is great for all the latest GoPro action cameras. GoPro has officially recommended the SanDisk Extreme. Designed specifically for ultrafast high-resolution action cameras with an outstanding reading speed of 160MBs and writing speeds of up 90MBs, it makes it possible to maximize the capability of your devices. This range is ideal for 4K video recording and is thus ideal for GoPro cameras. You will also get an SD adapter to facilitate the file transfer to your laptop.
This SanDisk Extreme microSDXC card gives you fast multimedia file transfer and fast device performance. This card is suitable for outdoor adventures and trips as it allows you to have 400 GB of storage capacity, letting you capture high-quality UHD and full HD videos and pictures. SanDisk Extreme has Rescue Recovery software which allows you to easily recovery through downloading the images that accidentally get deleted. For only $20, you can have access to the biggest storage, highest speed, and a lot more with this SD card.
Storage: 32 GB to 1 TB
Type: microSDXC
Speed Class: Class 10, UHS-3, and V30
Writing speed: 90 MB/s
Reading speed: 160 MB/s
4K Recording: Yes
---
Things to Consider before Buying microSD Cards for Action Camera
It is essential to choose a memory card wisely. Both the GoPro HERO9 and DJI OSMO Action needs high-performance memory card when it comes to 4K Video Recording. However, the GoPro supports a maximum of 128 GB storage card, and the DJI OSMO support 256 GB of memory card. Furthermore, you need to know some additional information on what to consider when buying a microSD card.
Speed Class
Each SD card has a unique Speed Class describing its type of data collection category and its use for recording videos. U1 (10Mbps), U3 (30Mbps) and Class 10 (10Mbps) have been the most suitable SD cards for GoPro action camera use. However, for 4K video recording you need to go with V60 or V90 but these are the expensive SD Cards. If you have a camera that doesn't support U1 and U3 then go with Class 10 otherwise, it will provide lower speed for data writing.
Class 10 also works best for a 1080p resolution camera. The Class 10 and all other high-performance SD Cards are mostly compatible with any GoPro Hero and DJI OSMO.
Storage Capacity
The GoPro HERO 9 Action Camera can support up to 256GB of micro SD card. However, we recommend using 128GB memory cards on HERO9, because of the performance issue. The older model of GoPro Hero also supports 128GB storage, but if you have HERO 5 or 4, you should opt-out for 64GB.
Likewise, the new DJI OSMO Action camera supports the MicroSD Cards with a capacity of up to 256GB. If you go shopping for a new microSD card for your GoPro or DJI, then I suggest checking the specifications and capacity of your device first before selecting an SD card and buy the one that has the maximum size.
---
Which MicroSD Card to Choose?
GoPro HERO9 and DJI OSMO Action only work best with certain micro SD cards. You can always search more and gather more information on what will suit you best but make sure you do follow the steps to get what's is best. However, the upper-mentioned micro SD cards are the best options. You can choose from them the one that suits your requirement.