Our phones are one of our most valued and private possession. Whether it is work, school, or entertainment, we do it all through these small palm-sized devices. Since so much depends upon our phones, we must take all the protective measures to keep them safe and damage-free as long as possible. One such protective measure is a phone case. So, if you are in the market for a new Samsung Galaxy S21+ (Plus) Case, then we present you with 16 of the best options.
Best Phone Cases for Galaxy S21 Plus
Caseology Nano Pop Case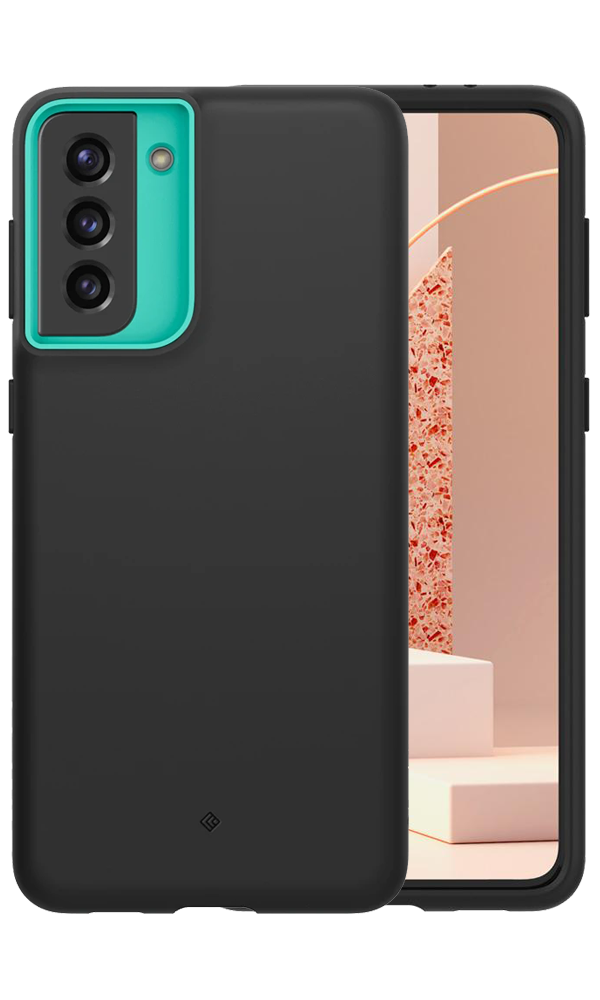 Available in three vibrant two-toned color schemes, the Caseology Nano Pop Case is for anyone who wants to make a bold statement. The case is slim and has a smooth protective layer on the inside that helps to keep your phone safe during harmful impacts. The volume and power button are soft yet firm to press and the cutouts on the bottom of the case are clear-cut. Lastly, the case is a screen protector and wireless charging compatible.
Spigen Rugged Armor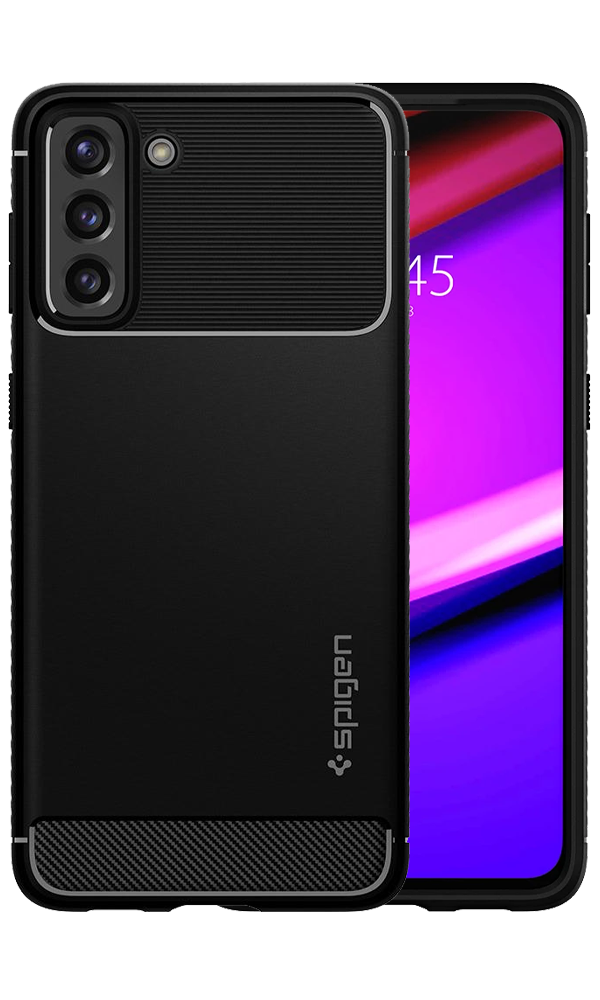 Rugged Armor case from Spigen is made from flexible TPU which makes it a reliable and protected accessory for your Samsung Galaxy S21 Plus. It also features Air Cushion Technology which further helps to protect your phone. Spigen Rugged Armor has a matte finish and will be ideal for anyone who wants a monotone and minimal phone case. It is styled with a slim frame, textured carbon fiber detailing, and glossy accents. Furthermore, it is compatible with reverse and wireless charging.
Incipio Duo Case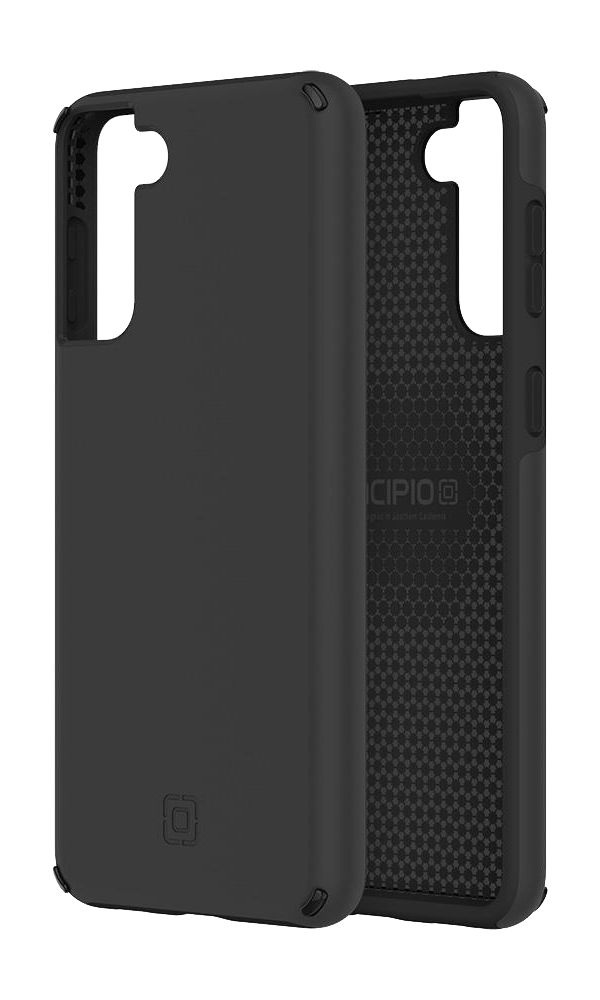 Available in Black, Salsa Red, and Indigo Blue, the Incipio Duo Case comes with a simple design. It is easy to handle and has a very slim design. Furthermore, it possesses the impact strut technology that makes sure that your phone remains safe during any drops or hits till 12 feet. Lastly, it also has a new antimicrobial treatment to remove almost 99.9% of the germs and bacteria that may be hiding on your phone's surface.
Otterbox Commuter Series Case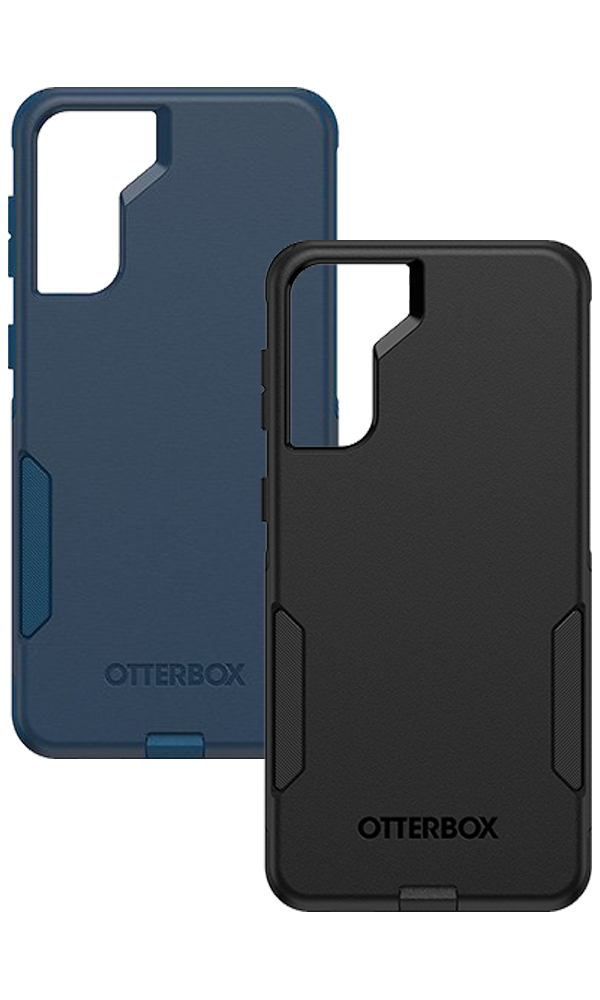 Otterbox Commuter Series Case is made from 35% recycled plastic. It has an antimicrobial technology and is infused with a silver-based additive to keep bacteria and germs away. It has a thin design and is wireless charging compatible. The unit possesses two layers; the outer polycarbonate layer protects the phone from impacts while the inner layer is a soft slipcover. The cutouts are precise and make sure that lint, dust, and other small substance are blocked from entering the ports.
ZAGG Gear4 Copenhagen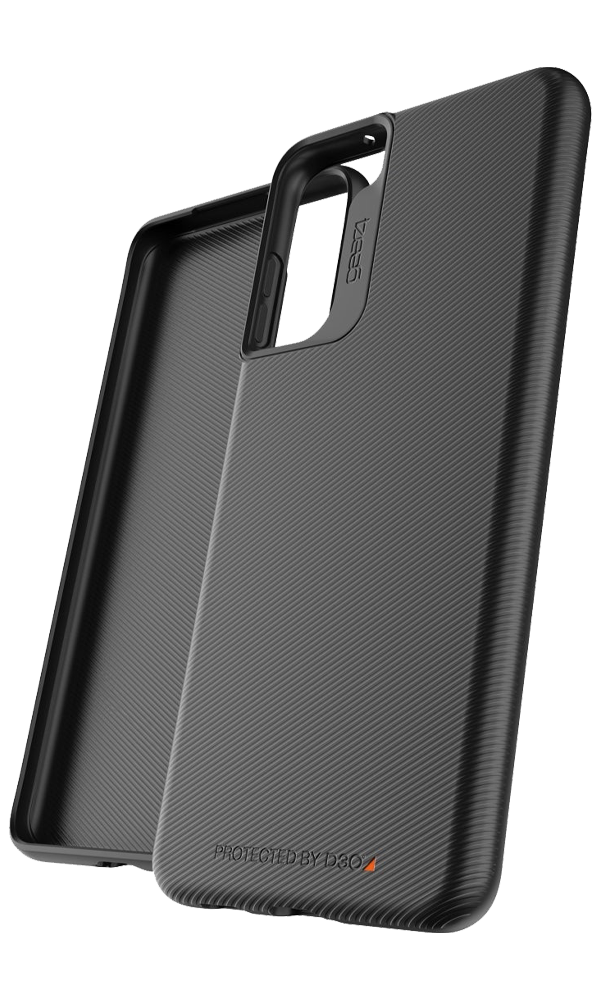 ZAGG Gear 4 Copenhagen case has 13 feet of drop protection. It is made from polycarbonate, TPU, and D30. D30 is a special plant-based material known for its exceptional qualities. Furthermore, it has an antimicrobial coating called RepelFlex that blocks all bacteria and microbes from inhibiting the surface of your phone. It has a very simple and lightweight design and comes with wireless charging compatibility.
tech21 Evo Check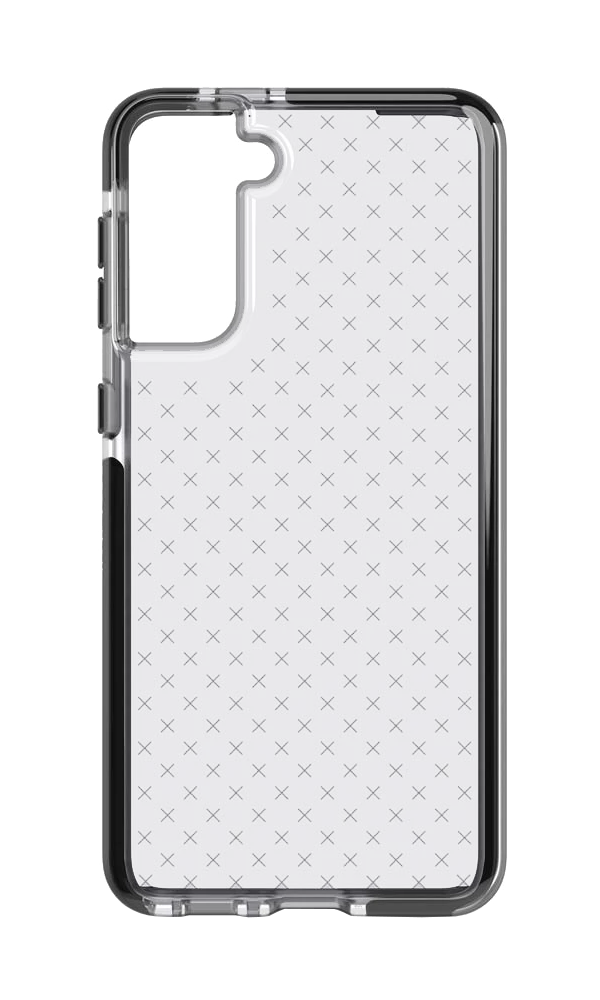 The tech21 Evo Check is a slim, elegant, and transparent black phone case. It features hygienic protection for your phone as well as its camera. The case also has integrated microbe-reducing substances to keep your phone clean and safe 24/7. It also has protection against impact up to 12 feet. The buttons are smooth and easy to use. Also, the buttons are completely interchangeable. With an anti-slip grip, the case is perfect for people who want a simple, strong yet quirky case for their phone.
Ringke Fusion-X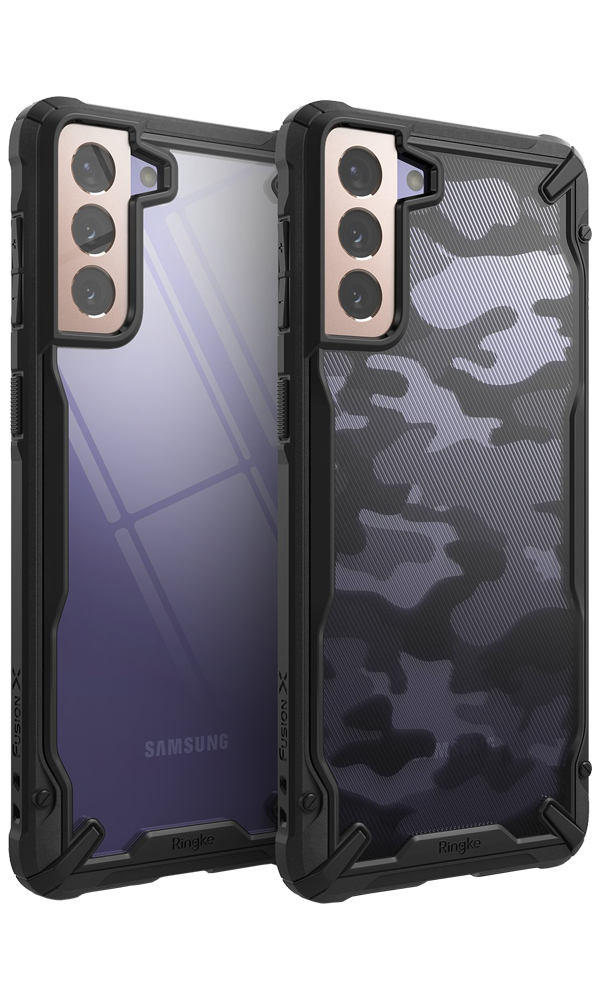 Ringke Fusion-X is a transparent phone case with a black raised-border. The border helps to provide a better grip and also protects the screen from accidental scratches and drops. It is comfortable to hold and the buttons on the side are extremely easy to press. The case also has in-built QuikCatch lanyard holes so that you can attach neck or hand straps. Any screen protector can work with this unit. Also, it is wireless charging compatible.
ESR Metal Kickstand Case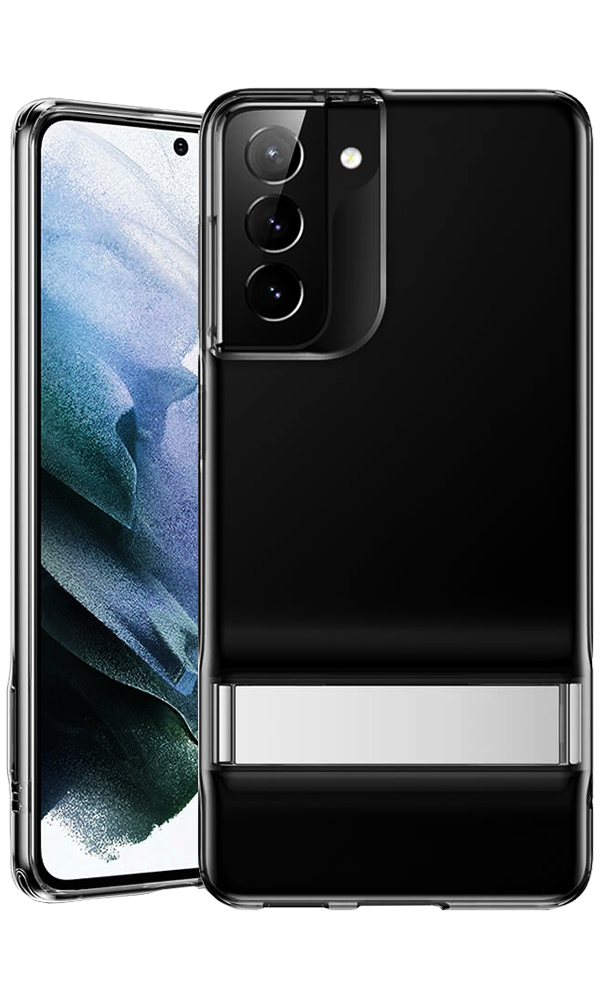 Available in two styles; clear and clear Black, the ESR Metal Kickstand Case is made from a strong and robust polymer that is flexible, smudge resistant, and absorbs every kind of shock. You can easily put it on and off your phone without any cover. It also has raised edges that protect it from scratches and drops. It also features a sturdy metal stand that opens and closes very smoothly.
Galaxy S21+ 5G Kvadrat Cover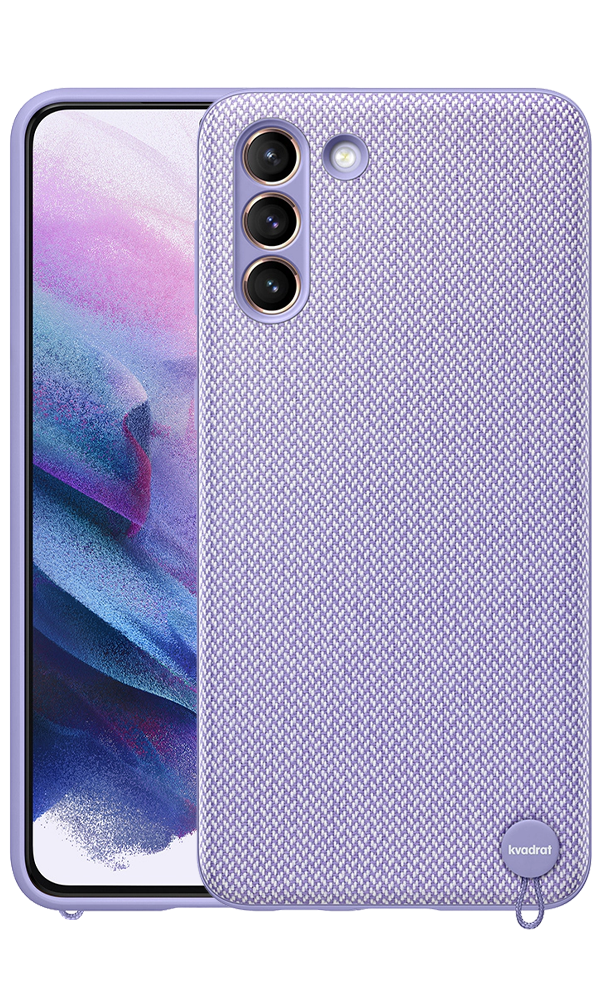 The Galaxy S21 Plus Kvadrat case is a stylish back cover with a sustainable and remarkable material. It is made from recycled bottles of PET and is 100% compostable. Kvadrat Cover has a small hook at the bottom that can be used to attach a fancy strap or a hand or neck lanyard. It is a very slim design and offers outstanding protection. Moreover, the unit has a very comfortable grip.
Galaxy S21+ 5G Clear Standing Cover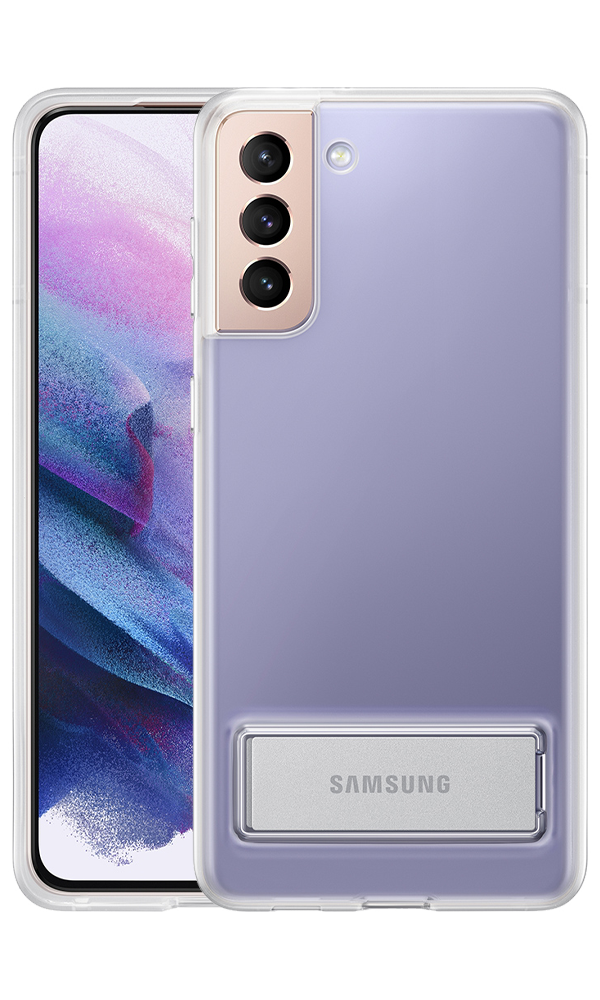 Galaxy S21+ Clear Standing Cover is a simple and practical layer of protection for your phone. It is made from two different types of materials; a strong solid PC that protects the back of your phone and TPU bumpers to give extra protection to the corners. It features a sleek Free Stop Hinge on the back so that you can watch movies or attend video calls comfortably at any viewing angle of your choice.
Galaxy S21+ 5G Silicone Cover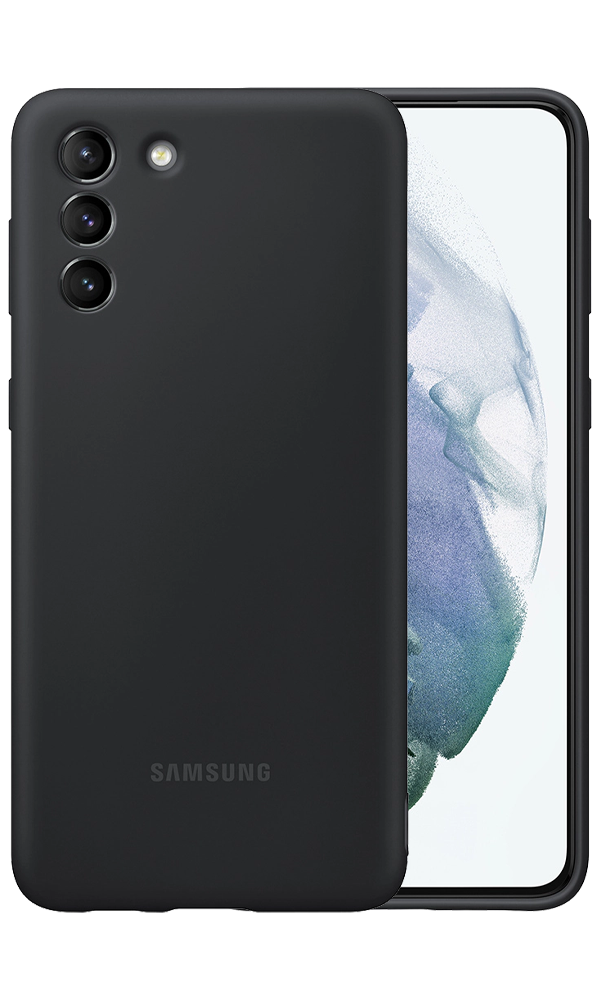 Made from Silicone, the cover is flexible, soft, and gives perfect protection to your phone. It has an elegant matte finish that lets you have the perfect grip on your phone. It is available in black, violet, gray, and pink colors so you have plenty of choices to match it with any stylish look you like! The buttons on the side are firm but press easily. The cutouts at the bottom are perfectly cut and keep the ports protected from small particles.
Galaxy S21+ 5G Leather Cover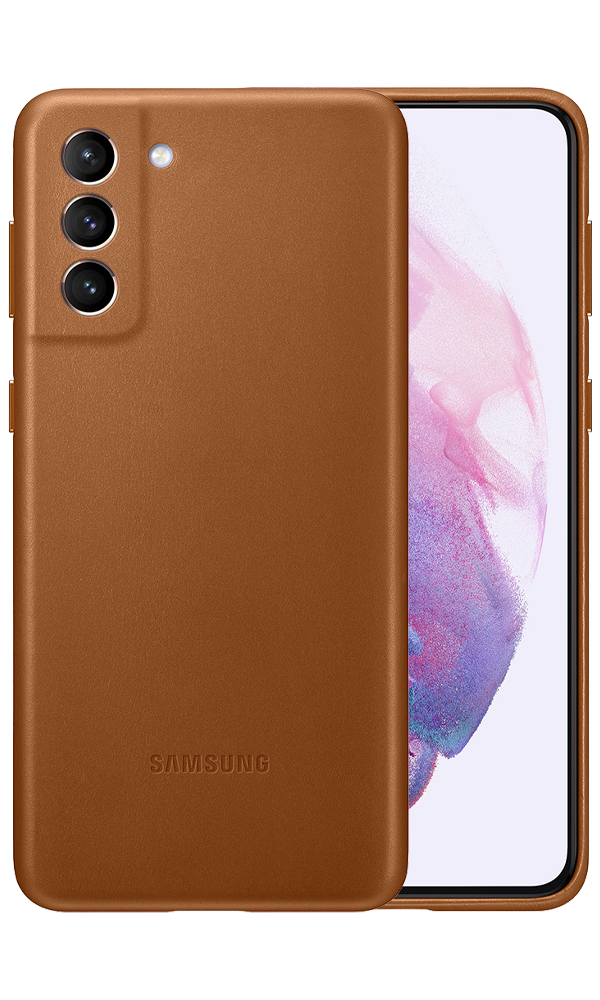 Available in black and brown color, the Galaxy S21+ Leather cover is made from genuine and top-quality leather. It gives your phone a luxurious finish and has soft touch. It is specifically designed to protect the rear camera and save it from all types of scratches. Moreover, the unit has an ergonomic grip and is very comfortable to hold. The buttons on the side and the cutouts at the bottom of the case are very accurate and fit snugly over the phone.
Galaxy S21+ 5G S-View Cover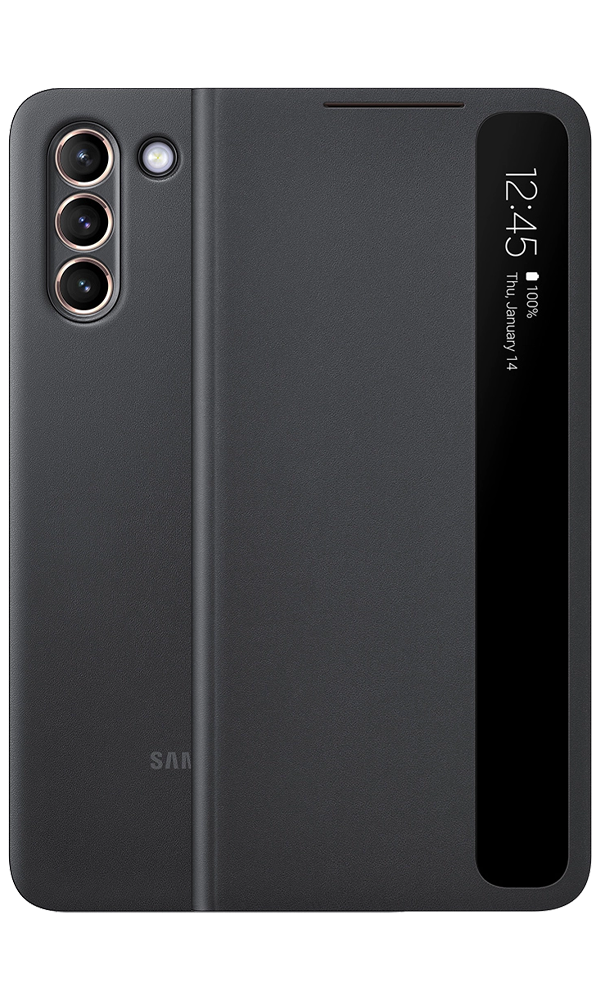 Galaxy S21+ S-View Cover has an antimicrobial coating that blocks all kinds of bacteria and germs from invading your phone. Present in four different color variants (Black, Pink, Gray, and violet), the cover allows you to answer and reject calls without opening the phone. Just tap on the screen and that's it! The screen on the front also lets you see the time, battery life, messages, and even play music.
Galaxy S21+ 5G LED Wallet Cover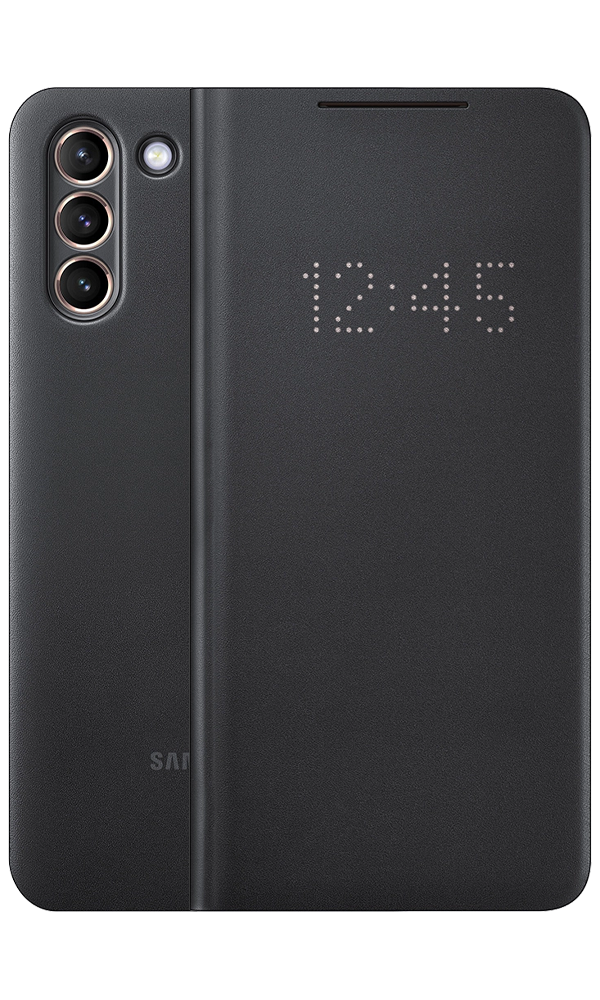 Galaxy S21+ LED Wallet Cover has a strong antimicrobial coating to enhance the hygiene of your phone while offering you the protection. With the smart LED view cover, you can use your phone even when the screen is covered with the case. You can access all the important notifications like texts and calls via the LED cover. Furthermore, the style of the cover is customizable and you can change the text and shapes to suit your preference. It also has a small card pocket on the side so you can store necessities easily.
Galaxy S21+ 5G LED Back Cover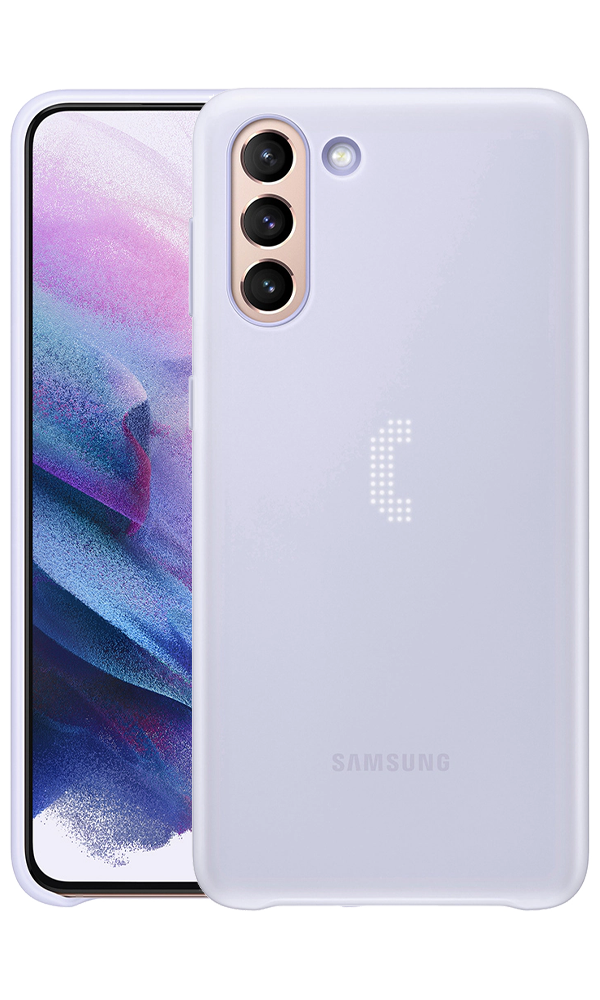 With a dual-layer and a modern design, the Galaxy S21 Plus LED Back Cover is for everyone who appreciates small yet unique innovations. The LED on the black has a visible glow that shows you important details of your phone. So, you do not even have to open your phone to manage different notifications! You can also customize it by changing the text size or using animations. The most impressive aspect is that it has space for almost 40 icons!
Galaxy S21+ 5G Clear Cover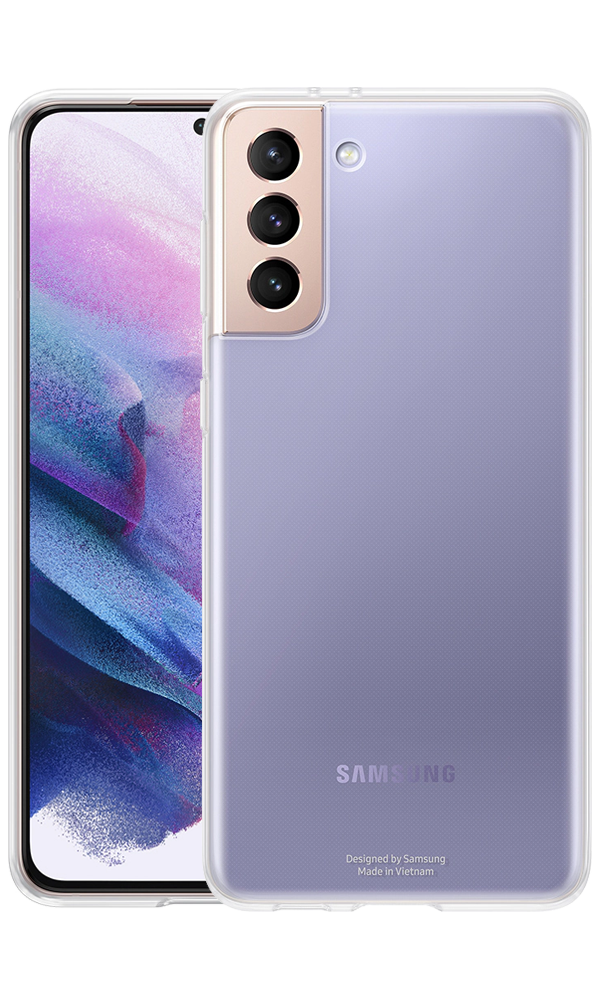 Galaxy S21+ Clear Cover is made solid PC back and a TPU bumper so that your phone is protected from all sides. The rear of the case is transparent so that you can show off the original design of your phone. The unit also has a Free Stop Hinge on the back so that you can easily place your phone on a leveled surface and place your phone at a comfortable viewing angle.
What Case is best for Galaxy S21+?
If you are looking for the best grip and protection with all-around value, the Samsung Kvadrat Cover Case is our recommendation for your new Galaxy S21+.
For luxury and style, nothing beats the Samsung Leather and Smart LED Back Cover. Moreover, for slim and lightweight cases, ESR Metal Kickstand and tech21 Evo Check are our favorite.
However, if you are looking for heavy-duty protection, we recommend looking into the Spigen Rugged Armor and Ringke Fusion-X.
I hope your search for the Galaxy S21 Plus cases ends here. Do check out our best Galaxy S21 screen protectors list for all-round protection.
Also, make sure to read our best phone case roundup for Galaxy S21 and S21 Ultra, in case you own the bigger or smaller model.