The Galaxy S21 Ultra is the first Galaxy S phone compatible with the Samsung S Pen, which typically only works with the Note series. Its camera module is similar in concept to its predecessor S20, except for its frame, which melds more with the phone's overall metal design. However, this new design does not house the the S Pen within the phone body. This makes it impossible to carry the Galaxy S21 Ultra S Pen without a Case holder. We are hoping to see a housing in upcoming Galaxy S22 release.
While innovative, this feature also makes the camera more prone to damage on impact, which is why having the phone in a case is essential. So, we'll be looking at the best Galaxy S21 Ultra cases right here.
Best Phone Cases for Galaxy S21 Ultra
Galaxy S21 Ultra Silicone S-Pen Cover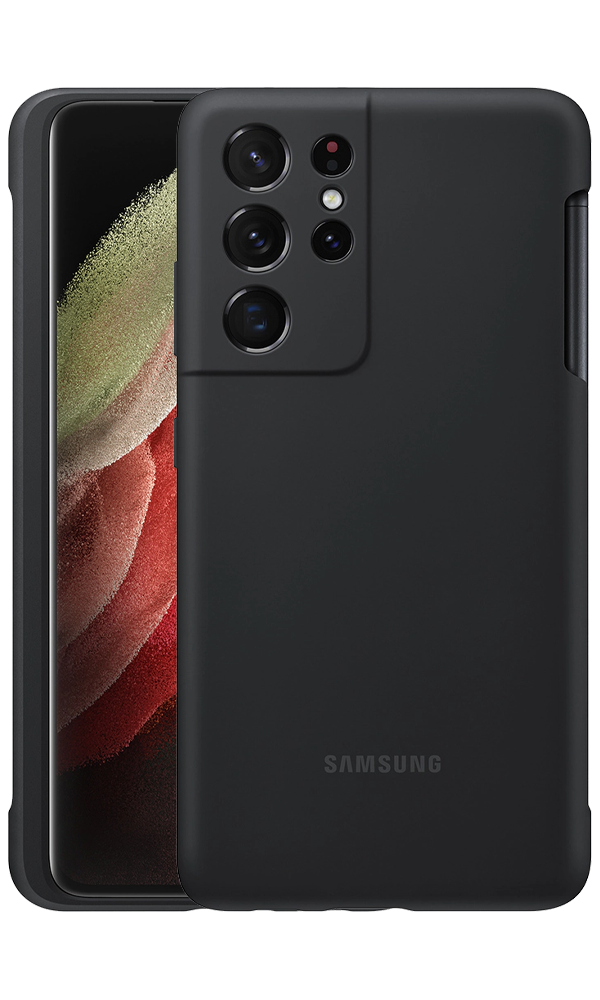 Samsung's traditional matte black Silicone Cover has been upgraded to now facilitate the latest S21 commodity, which is the S Pen. You have to place the S Pen in a useful holder situated on the side of the cover, so have it on you at all times. This case also adds a smooth texture to its grip for ease of access to your phone whenever you need it.
Incipio Grip Case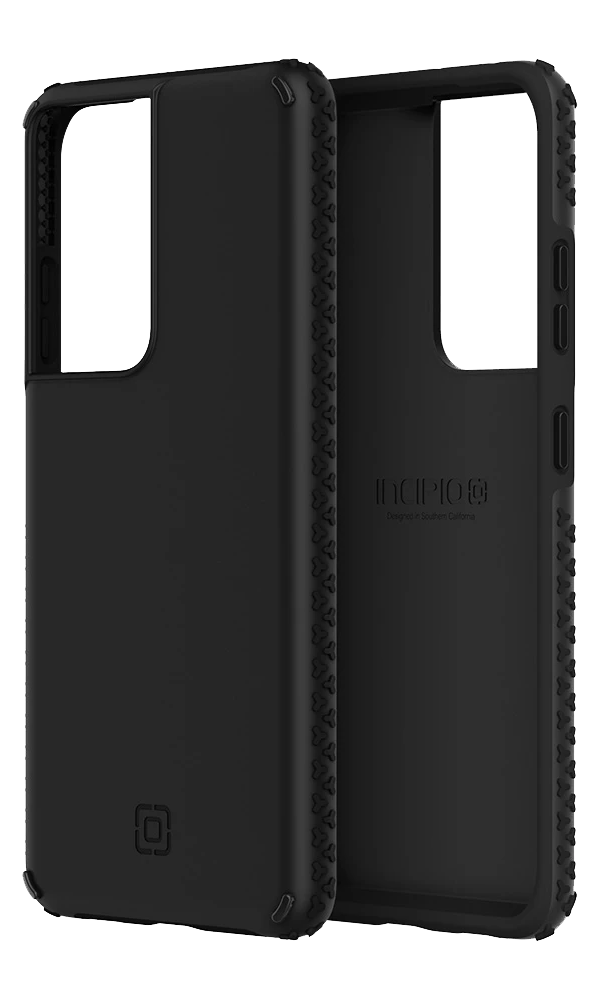 The Incipio case is available in two colors, midnight blue, and black. It uses Grip technology to prevent slips and falls through multidirectional assists. This Samsung Galaxy S21 Ultra cover also utilizes Impact Struts to increase the drop protection level to 14 feet, which prevents cracks and scratches much more effectively. The other antimicrobial technology also prevents bacteria and germs from collecting its surface for full protection against any surface infections.
Spigen Slim Armor CS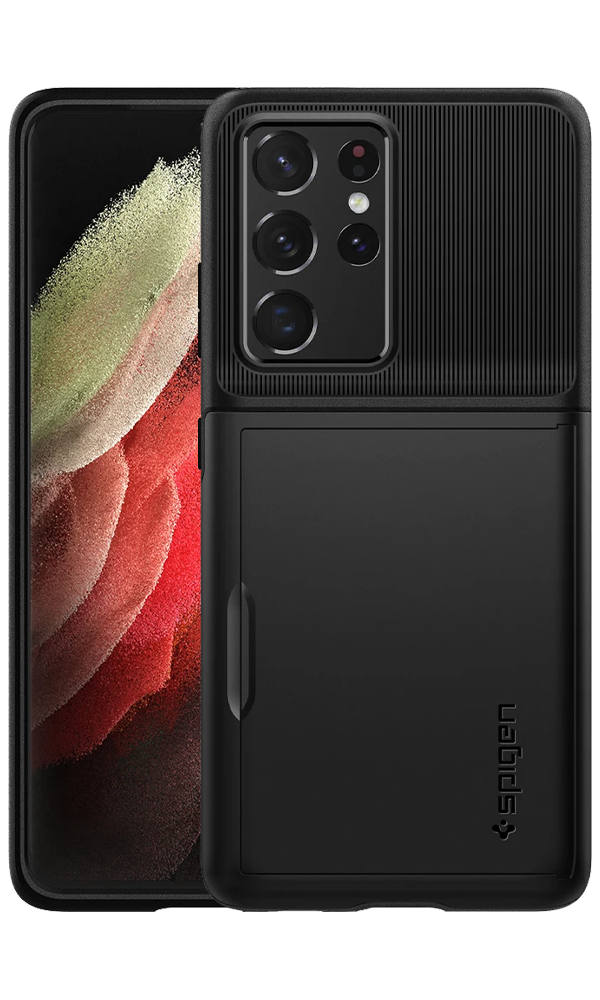 The black Slim Armor CS allows users to store up to two cards and cash in a convenient slot. Just make sure to remove them before charging your phone wirelessly, which the case allows, along with reverse charging. It uses double-layered TPU and PCP to add flexibility and durability, respectively, facilitating the case's enhanced protection. The Air Cushion technology further adds to this Galaxy S21 Ultra Case's protective feature.
Caseology Vault Case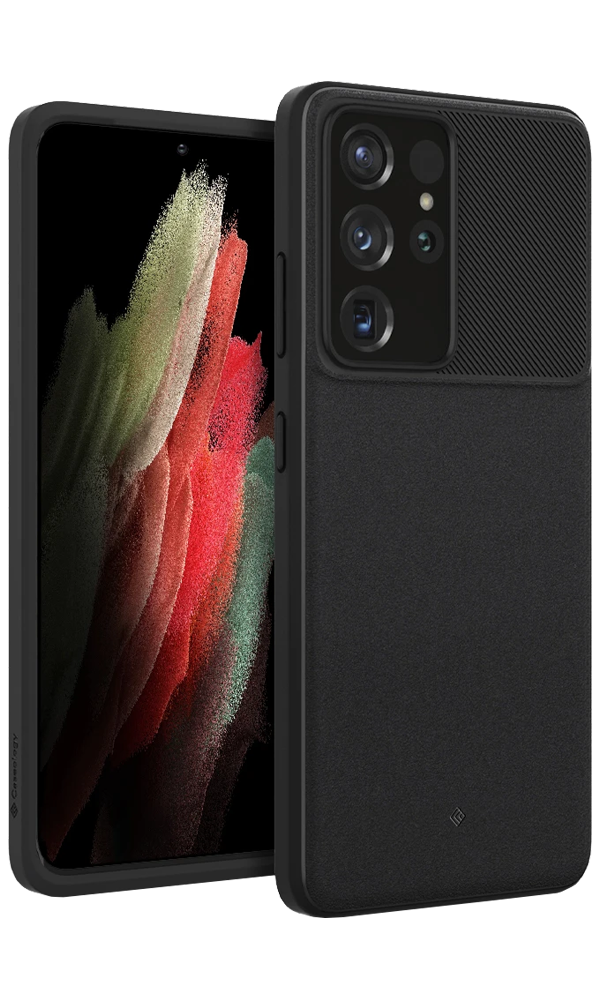 The Vault, available in matte black and urban grey, is a strong and flexible Samsung Galaxy S21 Ultra cover that uses shockproof TPU to prevent impact damage. It also uses a drop-proof design to withstand frequent falls and slips. The case protects your phone's weaker corners, as well as its comprehensive cutouts and buttons. Its military-grade quality makes the case both rigid and lightweight for efficient scratch protection, and the build makes it compatible with screen protectors and wireless charging.
Otterbox Defender Series Pro Case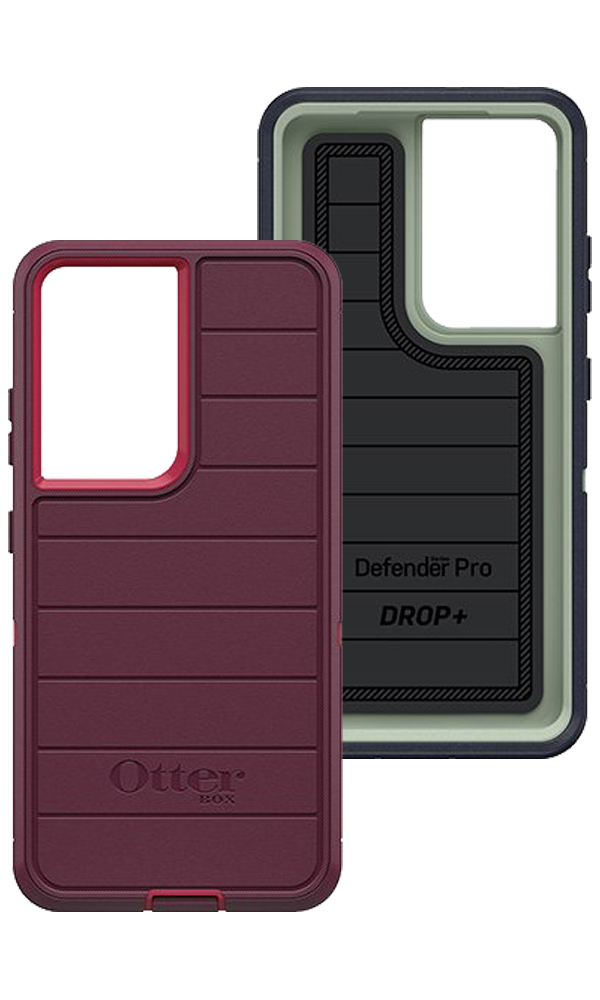 The Defender Series Pro comes in black, pink, and blue. It uses a silver-based element in its material that acts as an antimicrobial additive to protect the case against the most common bacteria 24/7. It also focuses on premium quality materials to get a rugged terrain that offers a more comfortable grip. Meanwhile, the Galaxy S21 Ultra Case's raised edges make it more effective in protecting both the phone's camera and the screen from any falls.
ZAGG Gear4 Denali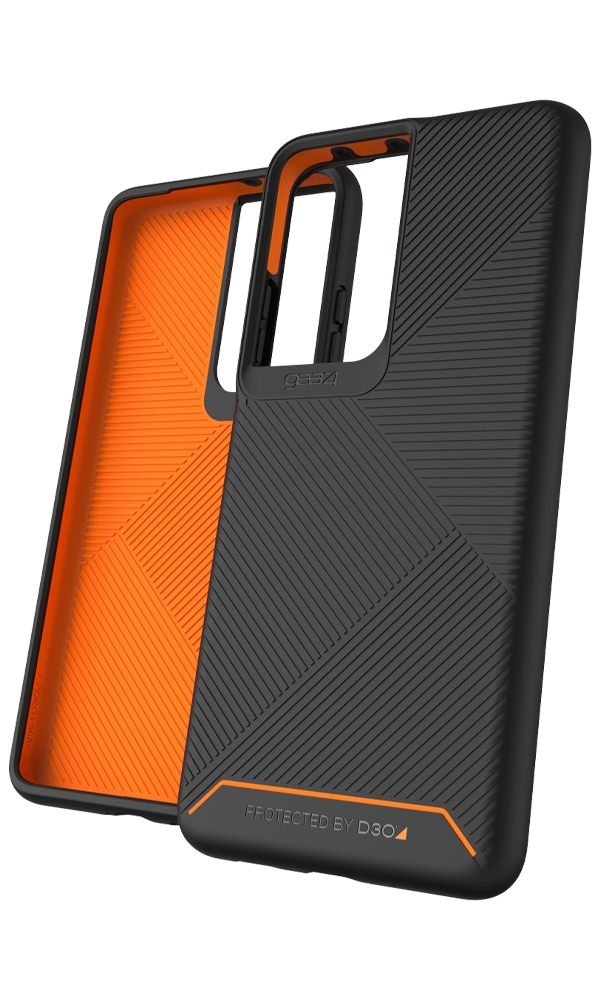 Denali's black textured surface does an excellent job at preventing slips with its smooth grip. The case is fortified with military-grade D3O, covering the sides and backplate, providing a 16-foot drop and impact protection. It also contains RepelFlex, a bactericidal covering with inbuilt properties that inhibit the accumulation of bacteria and other microbes, which can damage both the casing and your health. It is also compatible with wireless charging and 5G, thanks to its slim design.
tech21 Evo Slim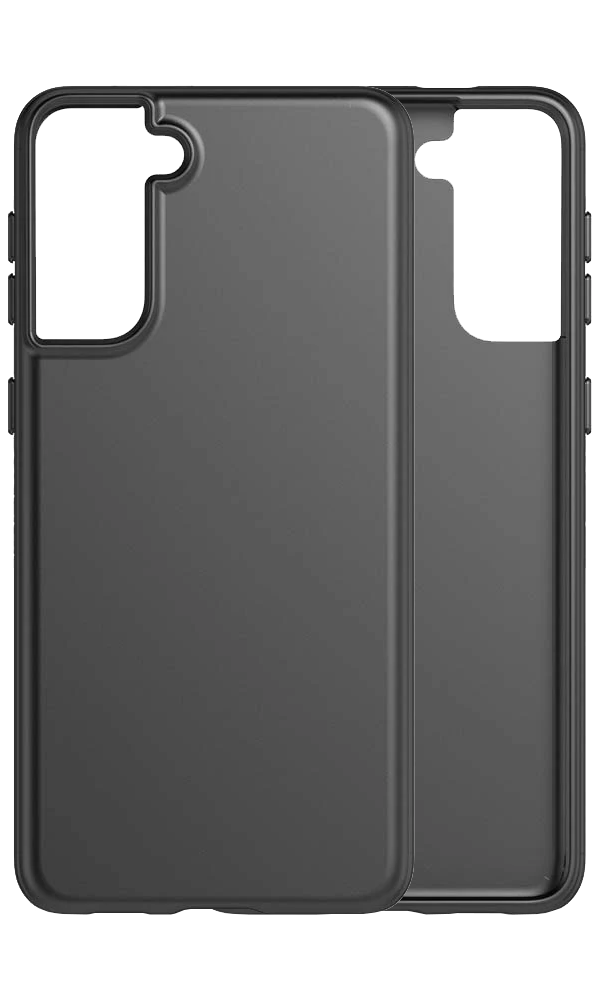 The Evo Slim is incredibly thin and lightweight while still offering full protection to your phone and camera. The case makes it so that the buttons are easily accessible and perfectly aligned, while the charcoal black covering provides a no-slip grip. The cover also provides drop protection up to 8 feet for frequent falls and slips, the material itself is antibacterial to maintain proper hygiene and safety. In contrast, microbe-reducing materials keep the case hygienically clean.
UAG Monarch Series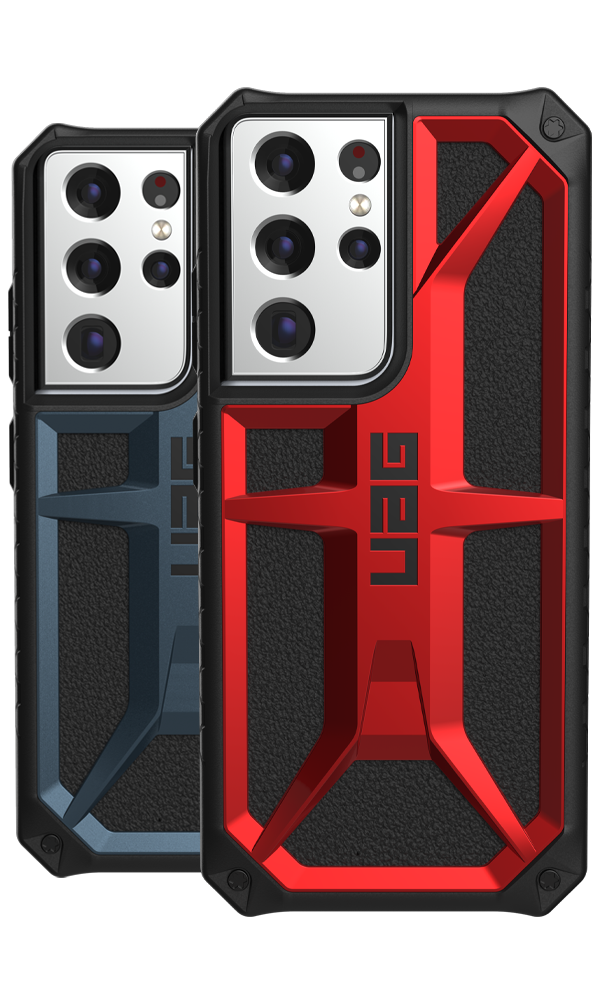 Another slim option, the Monarch, is a premium design built to withstand impact through 5 layers of material while maintaining a stylish aesthetic by offering red, blue, grey, and black color options. It uses hi-tech engineering to produce a tactile clicking sensation with each button press, with oversized buttons for easy access. It also uses a lightweight design and soft grip for more comfort and ease of use. With a warranty for ten years to back up the standard, the case will last long as well as your Galaxy S21 Ultra.
Ringke Onyx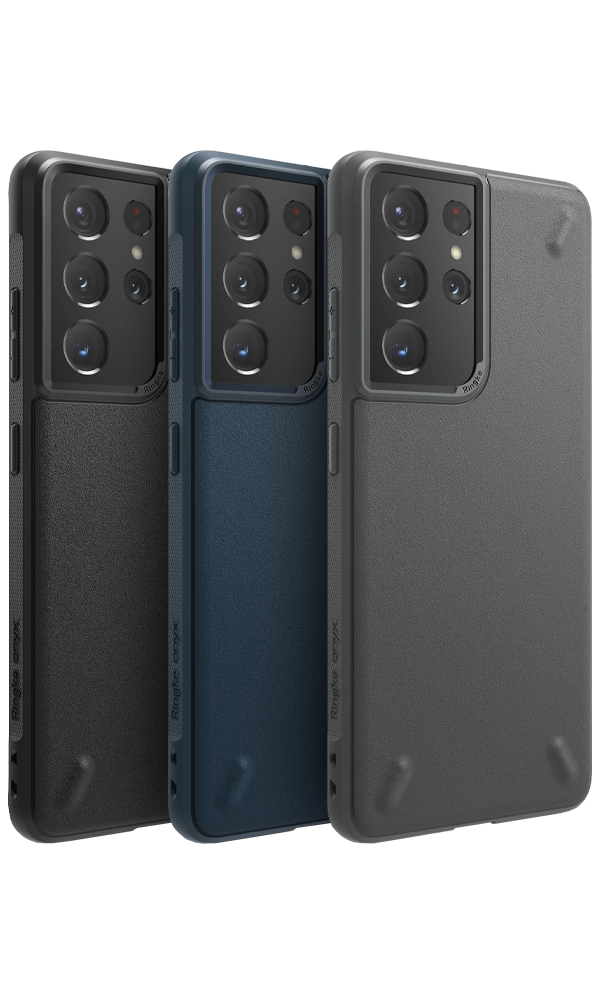 The Ringke Onyx is available in navy blue, dark grey, and black versions. It uses a flexible and durable TPU core for heavy-duty protection. You will find circular embosses on the sides for grip control to prevent any slips. Meanwhile, its matte textured surface is resistant to scratches and the like. You can also connect hand/neck straps using the inbuild double QuikCatch holes. The case also supports wireless charging and screen protection.
ESR Metal Kickstand Case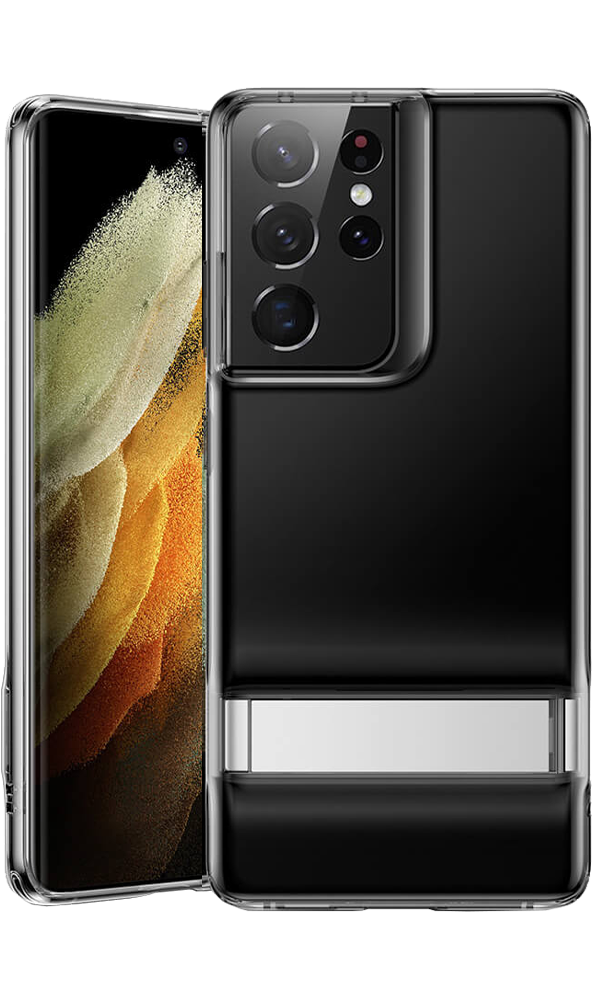 This ESR phone case caters explicitly to the S21 Ultra, in both the clear and black version. Strong, flexible materials offer better drop and force protection than rigid plastic. The case also has a 60-degree adjustable kickstand to support two-way portrait or landscape video calls and photos. Raised edges on the sides also help keep your phone screen and camera safe from scratches or slips.
Sucnakp Bumper Case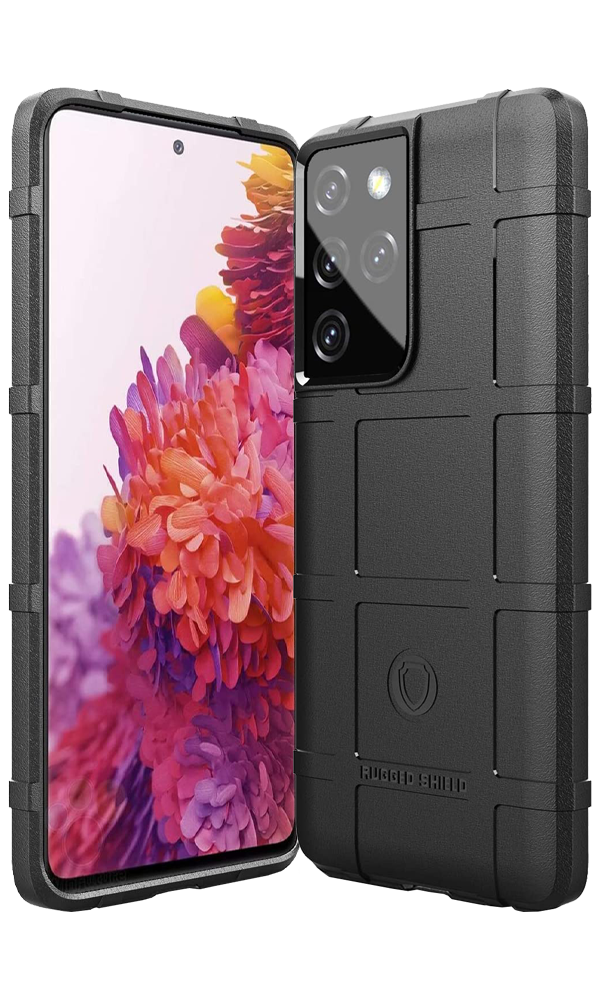 Like most other S21 phone cases, the Sucnakp case uses shockproof military-grade PTU for better impact and drop fortification. It has free buttons that are easily clickable, and the installation is straightforward for S21 phones. Raised edges add to the scratch and damage protection. The cutouts are well designed and placed accurately for both the speakers, microphone, and headphone jack. It also supports wireless charging, screen protectors, and pop sockets.
Galaxy S21 Ultra 5G S-View S-Pen Cover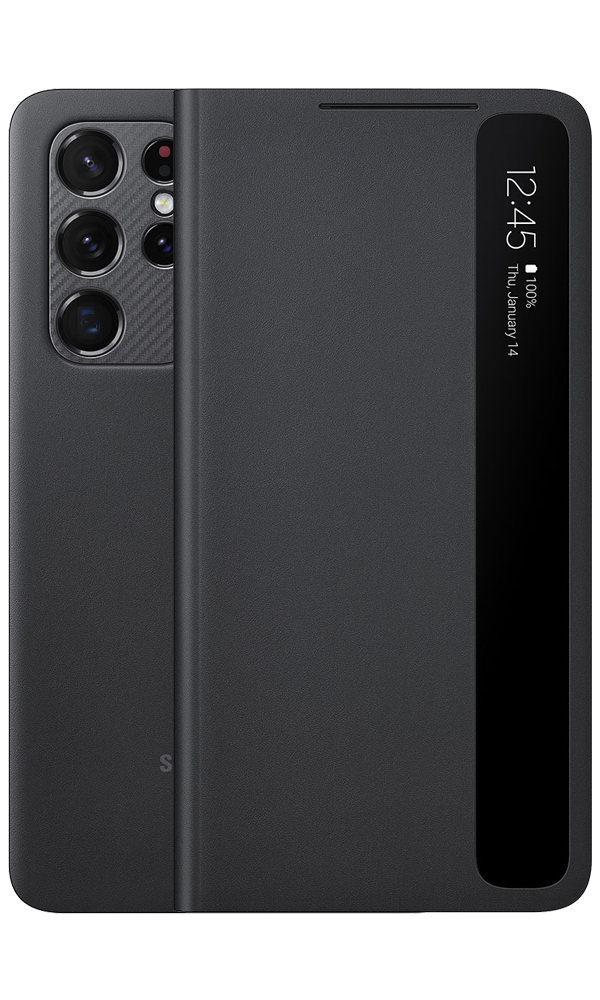 Like the black Samsung Galaxy S2 Ultra Silicone Case, the S-View Cover also has a convenient S-Pen holder. The difference is that it comes with a front flip cover and the backplate, which provides dual protection on both sides against scratches and drops. The S-View Case covers all the buttons and screen edges correctly and is encased in an antimicrobial coating to prevent further damage or health concerns from excessive use.
Galaxy S21 Ultra Clear Standing Cover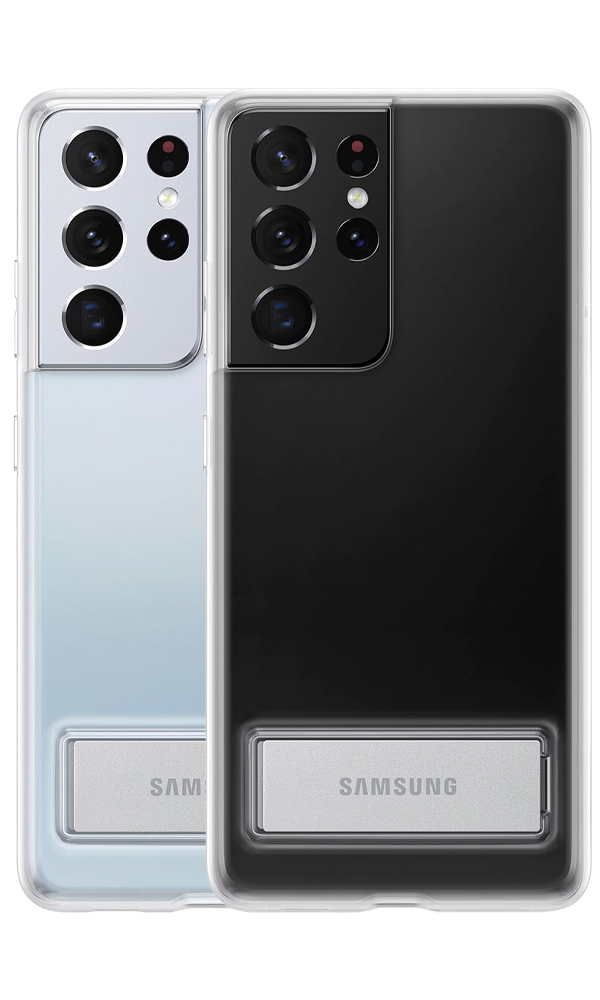 Another variant of the kickstand cover is that this Galaxy clear standing cover offers better view control with a stand on the back and a free stop hinge to adjust and fix the angle of your choice for calls, videos, photos, and streaming. The cover itself uses different materials for dual protection, PTU on the corners and PC on the back. It meets industry standards for drop tests and successfully prevents fall or slip damage from regular heights.
Galaxy S21 Ultra 5G Leather Cover
This mobile case is meant to look stylish and feel soft simultaneously with authentic brown or black leather. The cover can protect the back camera of a Galaxy S21 Ultra effectively, with added protection against bumps, scratches, drops, and falls. This protection is extended not just to the back but to the phone edges as well using elevated ridges; its slim design keeps the phone lightweight, while the soft grip adds to a lighter feel without minimizing any fortification.
Galaxy S21 Ultra 5G Silicone Cover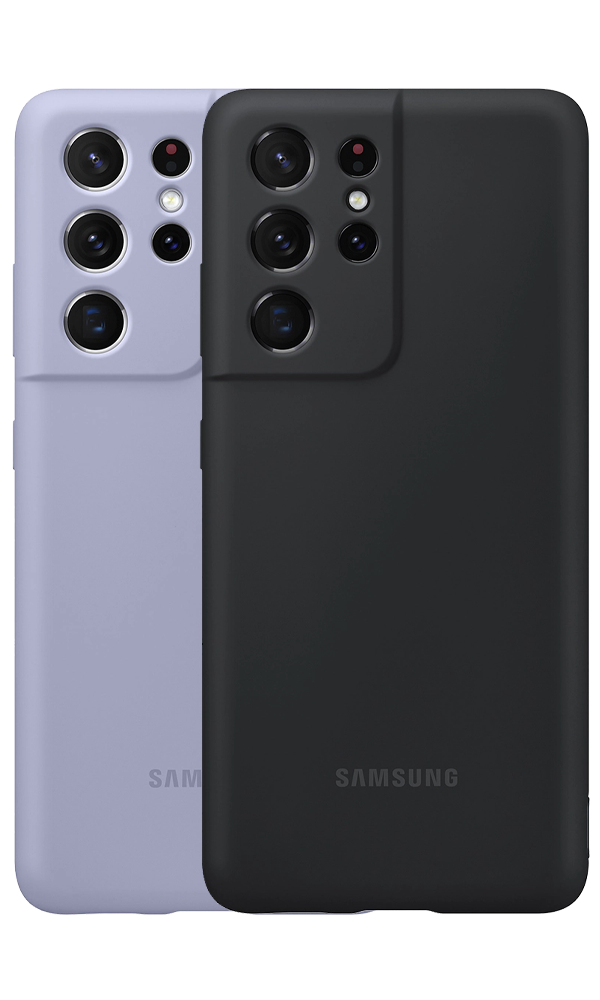 Another silicone addition to the Samsung Galaxy S21 Ultra case lines, this cover is designed to feel soft and comfortable while gripping using a silky matte coating that offers excellent grip control. The cover itself is compatible with both 5G and wireless charging as well. The protective casing surrounds both the back and sides while preventing bulking and damage. The case is available in various colors, mainly black, violet, pink, and grey. So, you're not limited to a specific style or color.
Galaxy S21 Ultra 5G Clear Cover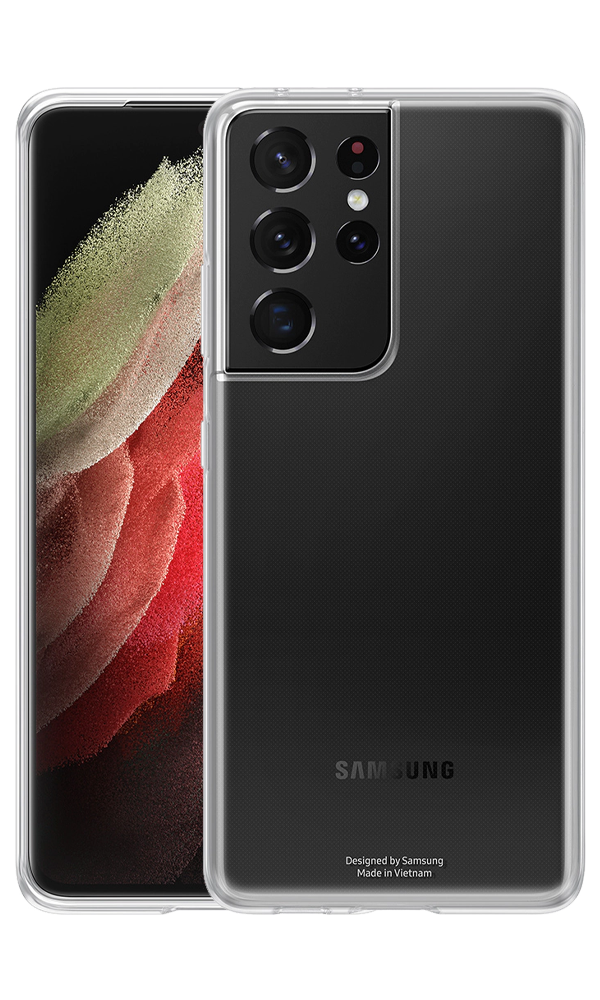 This case is for people who appreciate the Galaxy S21 Ultra's original look and prefer having it visible. It is a slim encasing that offers durability and visibility at the same time with a protective layer that prevents bulking of the phone while showing off its features through a straightforward design. Its surface is grip-supportive, so you can keep it safe in your hands or pockets. This case's transparency does not alter or fade, and the premium quality materials prevent discoloration.
Galaxy S21 Ultra 5G Rugged Protective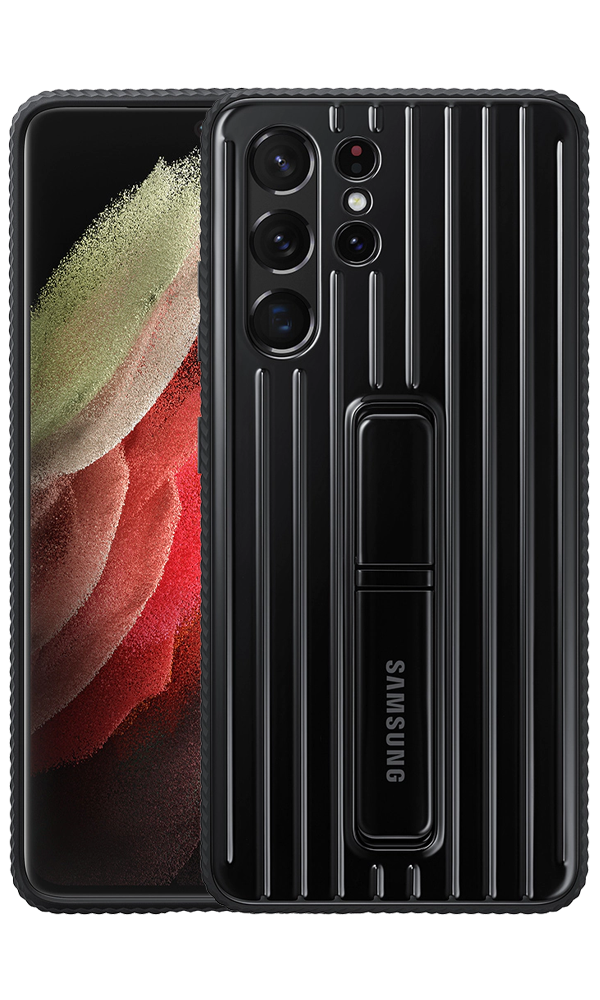 The Rugged Protective case is built more for protection than style. Its sturdy design meets industry drop test standards, so you don't have to worry about fall, slip, scratch, or impact damage. It covers the phone while giving a full view of the phone's Infinity-O Display. It also comes with dual kickstands so you can position and fix the phone in place securely at 45 or 60-degree angles. The stands can even snap off to prevent fall damage when they're not in use.
Galaxy S21 Ultra 5G LED Wallet Cover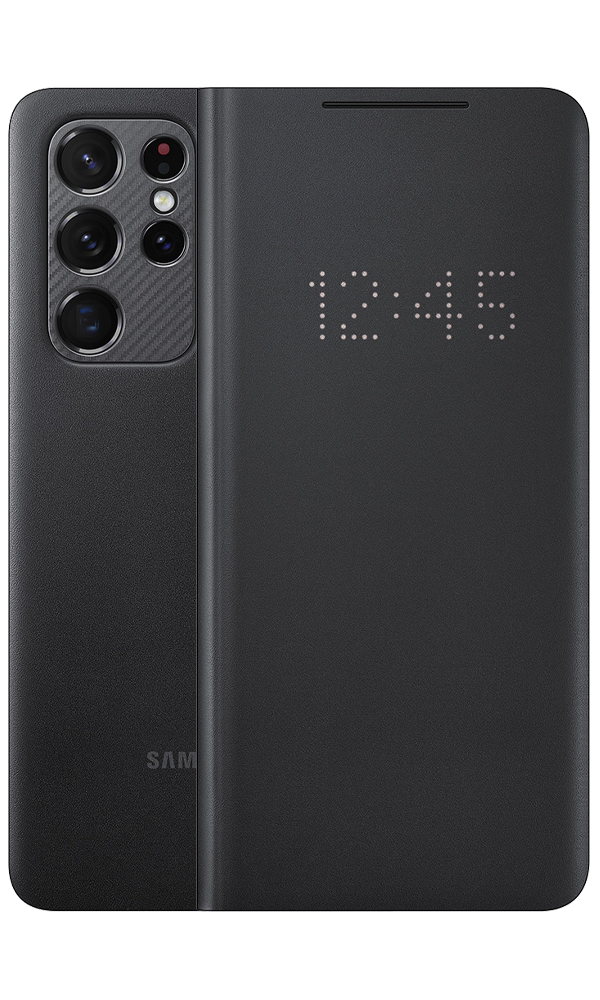 This wallet case comes in simple white and black designs, using sterilized coats that prevent microbial growth effectively for enhanced protection. The case has both a front and back cover, and you can answer or reject calls even with the front cover over the screen. Both 5G and wireless charging compatibility are present; you can also alter the case's design with personalized icons. The inside of the front cover even has slits for keeping your cards and money on hand. You also have preset lighting and icon options to customize the display.
What Case is best for Galaxy S21 Ultra?
There are dozens of factors to consider when choosing a phone case, and the heavy and large smartphone like Galaxy S21 Ultra, durability and grip have to be the top consideration.
Our top recommendation is the ESR Metal Stand case and Galaxy S21 Ultra Silicone Cover if you are looking for a thin and ultralight cover. Both offer good grip and scratch protection while keeping your phone safe. Now, as we know, the S21 Ultra is bigger than the Galaxy S21+; you might want to buy a case to hold your credit cards. For that, we suggest Spigen Slim Armor CS.
For heavy-duty cases, we recommend UAG Monarch and Ringke Onyx Series. These are the heavest back covers in our list but offer greater bump and drop protection. Lastly, the official Samsung Rugged Case offers military-grade drop protection and extra functionality such as a kickstand on the back.
If you are looking for luxury style and sleekness, you might be interested in Samsung Leather Cover, available in brown and black colors.
However, you might be into the new S-Pen. If you plan to purchase a new Galaxy S21 Ultra S-Pen, I highly recommend the Samsung Silicone Cover with S-Pen, which is the only compatible case to hold your stylus.
I hope this wraps up your hunt for the new Galaxy S21 Ultra cases; make sure to read our best Galaxy S21 screen protector roundup as well. Because if your display shatters, all you will have is an expensive piece of electronic that doesn't even work.
You can also check out our best cases collection for Samsung Galaxy S21 and Galaxy S21 Plus.